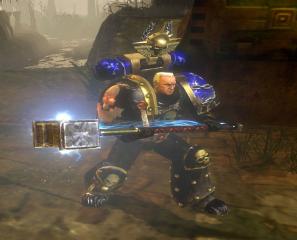 Views: 3,789
1.1
jaylo138
This is a mod for the single player campaign.

It adds to marine squads, enemy squads, boss damage, creates a command squad for the FC, adds a predator via drop. All of this plus more is designed to make the campaign experience more varied, enjoyable & challenging to play.

1.6 Update
Techmarine has been moved to the tac squad replacing a bolter tac marine & his
armour has been increased to the weakest termie armour to stay in line with Tarkas's squad should they upgrade to termie armour.

A chaplain now replaces the techie in the command squad, he uses a 2-handed hammer for melee & a plasma gun for ranged. His left shoulder & backpack is team colourable, i currently can't colour his backpack black as it's a shared model.

The chaplain has a damage resistence aura & the apothecary has a healing aura.
I've coloured the apoth's right shoulder white so he's a bit more fluffy.

Thule's termies can now reinforce. Also Thule can equip the Tarantula Turret, Rosarius & Signum wargear now.

Marine head graphical glitch should be fixed.

Predator's base weapon damage increased by 25%.

I've added another drop pod wargear that spawns a Kasrkin squad, with a squad icon i made for them. They are a little buggy at the moment as they won't reinforce.

My updated badge mod, which adds another 15 space marine badges to the orig badge mod, is included along with my armypaintercolours.lua.

I've also included my defaultchaptercolours.lua, which has my Ultramarines colours replacing the Blood Ravens & changed enemy colours in the campaign. If you wish to change the colours\badges in the campaign for yourself then edit the first entry for each race in defaultchaptercolours.lua.