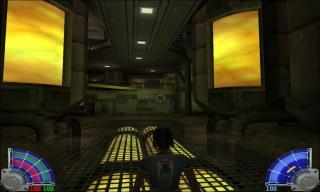 Views: 2,132
1.0
May Michael
********************************
JEDI KNIGHT ACADEMY MODIFICATION
********************************

Title : Spaceport
Author : May Michael
E-Mail : maymi33@hotmail.com
Website : n/a

File Name : sp_spaceport.zip
File Size : 5.1 megs
Construction time : about one year
Design Computer : P4 1700 , 512MB Ram, Geforce 4 FX5200 Ultra 128MB
Date Released : 26.12.2005
Type : Single Player
Difficulty Setting : NO
Tester(s) : Andrea (Chaos) May

New Music : NO
Scripting : YES
New Skins : NO
New Models : NO
Custom Textures : NO
Custom Shaders : NO

Map Info:
Total Brushes : 12171
Total Entities : 1845
Secret Areas : 4

Description:
The Jedi Council has sent you to the main spaceport of the planet Okofo to find
the dangerous criminal Lord Lukman. Hunt him down, but be care that he can't
flee again. For this reason, find his spacecraft first and disable the
departure. After this go for him and take any action as necessary to stop him.
Good luck and may the Force be with you.

Installation:
Create in your Gamedata folder (not in the /base folder) a new folder called
spaceport and unzip sp_spaceport.zip straight into it. After this launch the
Star Wars Jedi Academy SP normally, selecting and loading the Mod "Spaceport" in
the SETUP/MODS menus.


THIS MODIFICATION IS NOT MADE, DISTRIBUTED, OR SUPPORTED BY ACTIVISION, RAVEN,
OR LUCASARTS ENTERTAINMENT COMPANY LLC. ELEMENTS TM & © LUCASARTS ENTERTAINMENT COMPANY LLC AND/OR ITS LICENSORS.