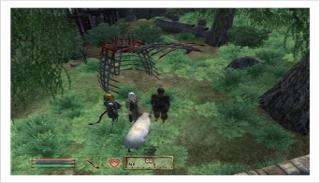 Views: 2,241
1.99L
Naalu Naiglemez
This mod adds two polymorphic actors, a specialized sheep, several creatures, and various particular objects. You have with all these companions, a capacity to teleport you almost everywhere.

The two polymorphic companions are a man and a woman who can be moved during fights. They can plunder their victims to fill their special chest and the contents can directly be sold to your profit without passing by the intermediary of merchant; the chest itself acting almost as a merchant. According to the situation, you can change the race of the companions constantly (10 races), like that of their horse (5 species). Their secret place is a refuge, comprising special wardrobes, a dustbin, a machine which copies objects (cloner), two dressmakers Lilliputians to equip your companions, a mannequin swiveling to wear your clothing or to try out thousands of articles to be bought referenced in the library, a ring for the cloning of inventories and a ring for the plundering of inventories.

The sheep is specialized in the installation of mines; it is trained to find the majority of actors catalogued in a books available in a library.

Creatures can be selected among a large variety according to the library. They escort you, can fight you for training or fight between them if you wish it, but follow your orders like soldiers.

You will be able to use a surfboard, and to control a platform, a nacelle, a ladder, and will have explosive arrows, a personal cage as shelter and trap with gas, rocks, crusher, fire or darts...


Video :
http://www.chats-et-chatons-en-ville.fr/tag/naiglemez


Read-me for more :
http://naiglemez0naalu.voila.net/SoloBoomReadMe.html
Install
Copy file/folders associated with the mod

- If English
TLPO_VA.esp to your Oblivion/Data/
TLPO_meshes to your Oblivion/Data/meshes/
TLPO_textures to your Oblivion/Data/textures/
Run Oblivion Launcher and click a cross in the box next to TLPO_VA.esp, do Ok and click Play

- If French
TLPO_VF.esp to your Oblivion/Data/
TLPO_meshes to your Oblivion/Data/meshes/
TLPO_textures to your Oblivion/Data/textures/
Start Oblivion Launcher and click a cross in the box next to TLPO_VF.esp, do Ok and click Play
Uninstall
1. Start Oblivion Launcher, click Data Files, uncheck the .esp file
2. Delete the files/folders associated with the mod