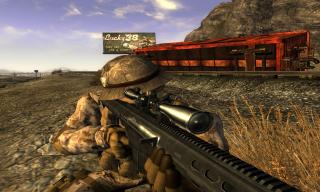 Views: 7,436
1.0
AlexScorpion
You have to crouch if you want to have good accuracy with M107 Raptor... if you'll be firing from a standing position or while running you won't hit anything .. well it will be a lot harder .. remember CROUCH


Name: Sniper Gear
Version: 1.1
Date: 10/28/2010
Category: Weapons
Author(s): AlexScorpion
Source: http://modsreloaded.com/sniper-gear

Description
===========
Well this is a convertion of my very old sniper gear. I have spiced it a bit with some visuals and ported to FONV.

Location
========
Well the location is a bit weird.Iwas planning to scatter everything throughout the whole wasteland first. But had some problems with the new geck. It just wouldn't load most interiors and kept crashing on me. To keep it save i have put the gear in one place called the Quarry Junction. It's not that far from the Goodsprings.In the Death Claws nest. Check the images for more info.

Details
=======
This mod adds 2 sniper rifles, 1 smg, and 5 mod kits into the game:
- M82a
- M107
- pp 2000
- silencer M107
- silencer M82
- red dot sight pp 2000
- ext. mag pp2000
- silencer pp 2000
and a whole lot of ammo.

Install
=======
1. Extract the files to a temporary location.
2. Examine the folder structure and make corrections where necessary.
3. Copy files to (install folder)/FalloutNV/Data/
4. Start FalloutNV Launcher, click 'Data Files', place a checkmark beside the .esp file(s).

Uninstall
=========
1. Start FalloutNV Launcher, click Data Files, uncheck the .esp file(s).
2. Delete the files/folders associated with the mod.


data/meshes/weapons/scorpion armory
data/textures/weapons/scorpion armory
data/Sound/fx/wpn/m82
data/Sound/fx/wpn/pp2000

Upgrade
=======

If you had any previous versions installed .. disable the esp ..load the game and save .. replace the old esp with this one .. load and play

Incompatibility
===============
Alexscorpion's Sniper Gear FO3 to FONV convertions.

Known Issues or Bugs
====================
None yet.

History
=======
-1.0a fixed the crashing when upgrading the weapons.


-1.1 reworked the pp-2000 and some other mesh fixes
Contact
=======
Examples:
You can find me on the official Elder Scrolls forums as alexscorpion
You can find me on TESNexus as alexscorpion.

Credits
=======

Examples:
Thanks to Weijisen for creating simple but AWESOME sfx for my weapon models.
Thanks to Bethesda and Obsidian for creating Fallout New Vegas.
Thanks to FalloutNVNexus.com for the a one-stop-shop resource for authors and players.
Thanks to LHammonds for the Readme Generator this file was based on.
Thanks to God for creating us all.

Tools Used
==========
7-Zip - http://www.tesnexus.com/downloads/file.php?id=15579
3D Studio Max - http://www.autodesk.com/3dsmax
NIFSkope - http://niftools.sourceforge.net/wiki/NifSkope
Paint.NET - http://www.tesnexus.com/downloads/file.php?id=11909
Photoshop - http://www.adobe.com/products/photoshop/
Readme Generator - http://lhammonds.game-host.org/obmm/tools_readme_generator1.asp

Licensing/Legal
===============
This mod is released under the GNU Lesser General Public License.
The LGPL can be found here: http://www.gnu.org/licenses/lgpl.txt