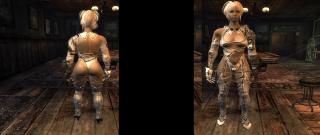 Views: 12,616
1.0
TOXA
Name: Snake Skin Outfit
Version: 1.0
Date: 23/1/2011
Category: Cloth
Requirements: Last Update for NV, FalloutNV Mod Manager
Author : TOXA01


Description
Just simple cloth.



Location
Goodspring,near old gas station(see the picture)



Requirements
Install
1. Extract the files to a temporary location.
2. Examine the folder structure and make corrections where necessary.
3. Copy files to (install folder)Fallout3Data
4. Start FOMM and place a checkmark beside the .esp file.



Uninstall
1. Start FOMM,uncheck the .esp file.
2. Delete the files/folders associated with the mod.

Fallout3/Data/Meshes/armor/SnakeSkin
Fallout3/Data/Textures/armor/SnakeSkin



Incompatibility
Not compatibility with any other body replacers(only with HG eye Candy Body)



Known Issues or Bugs
none



Contact
You can find me on fallout3nexusnewvegasnexus as TOXA01



Credits
Thanks to Bethesda and Obsidian for creating FalloutNV.
Thanks to nexus.com for the a one-stop-shop resource for authors and players.
Thanks to LHammonds for the Readme Generator this file was based on.



Tools Used
WinRar
3D Studio Max - http://www.autodesk.com/3dsmax
CrazyBump - http://www.crazybump.com
NIFSkope - http://niftools.sourceforge.net/wiki/NifSkope
Photoshop - http://www.adobe.com/products/photoshop/
GECK NV Construction Set
Readme Generator - http://lhammonds.game-host.org/obmm/tools_readme_generator1.asp