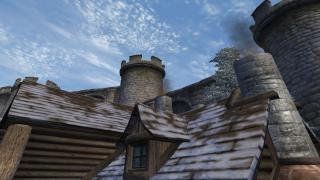 Views: 829
1.0
Cliffworms
The Elder Scrolls IV: Oblivion

Name: Cliff's Smokey Chimneys
Version: 1.0
Date: 24/11/08
Category: Misc.
Requires: Oblivion 1.2.0416
Author: Cliffworms (mr__legault@hotmail.com)

1. Description
2. Requirements
3. Installing the plug-in
4. Playing the plug-in
5. Save games
6. Conflicts/Known Errors
7. Legal Stuff/Disclaimer
8. Changelog
1. DESCRIPTION
This simple mod adds smoke that comes out of every chimney in the game. Only chimneys that are attached to a lit fireplace produce smoke.

I hope it brings you more life to Oblivion!
2. REQUIREMENTS
You need the latest version of Oblivion.

3. INSTALLING/UNINSTALLING THE PLUG-IN

Simply extract the .esp file to your Oblivion/Data folder.

To uninstall, remove the ESP.
4. PLAYING THE PLUG-IN
In the Oblivion Launcher, activate "Cliff's Smokey Chimneys.esp" by double-clicking on it.
5. SAVE GAMES
You do not need to start a new game to see the changes.
6. CONFLICTS/KNOWN ERRORS
- When you first enter a city, the smoke might now show. You have to enter inside a house and leave and the smoke will show. It's an Oblivion bug I can't work around. Skingrad is a good example of that.

- Will conflict with Better Cities and any mod that changes city layouts. I will not make compatibility patches. Placing 195 smoke effects on the game chimneys is time consuming. If you want to do a patch yourself, you can do it as long as my name appears in the credits as the original author.
7. LEGAL STUFF/DISCLAIMER
Distribute this mod as you wish. Just give the credits to me for releasing the plugin.
8. CHANGELOG
V1.0 : Initial release.