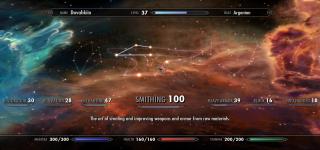 Views: 2,511
1.02
Stewb
I made perks for hide, iron, fur and leather smithing, making them available or just easier to improve. I moved arcane blacksmith to be accessed by hide or iron and advanced armours is now accessed by elven or orcish perks.

This is just me messing about with the creation kit, expect more from this including fletching when i get time.


Hide Smithing
Start of the tree


Iron Smithing
Alternate start of the tree


Fur Smithing
Needs Hide Smithing and smithing of 20


Leather Smithing
Needs Fur smithing and Smithing of 30


Elven Smithing
Changed to need Leather Smithng and Smithing of 40


Steel Smithing
Now needs Iron Smithing


Arcane Smithing
Needs Iron or Hide Smithing and Smithing of 50


Advanced Armours
Can be accessed from either Elven or Orcish Smithing.


Fletching
Make arrows at forges if you have the perk for the material, i.e if you have steel smithing you can make steel arrows. You only get 5 arrows but it only costs ingot and 2 leather strips to make.



v1.02
Fletching. Fixed perk tree positions a little.