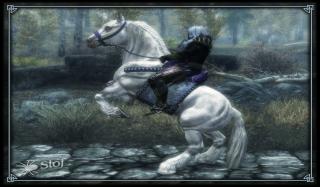 Views: 3,580
1.0
AlienSlof
Slof's Unique Frost by AlienSlof July 2012
***********************************************

Frost is described as a stallion in his pedigree, so I've made him a proper stallion. He also has his own unique white texture and saddle, making him more fitting to his name. I've also altered his pedigree papers to reflect that he is now 'silvery white'.

Also in this mod, I've made all player horses essential, so no more worries about them dying!

This stallion mesh and texture are also resources and as such, can be used freely. All I ask is a little credit. :)

Big thanks to Eldroth and Julien for help with the mesh.