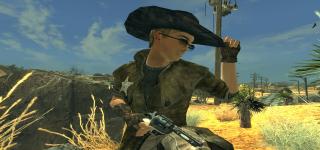 Views: 7,975
0.8
Aelieth
Endorse if it works wells for you, it is the best way others will find it.
Note: While this mod does not require any other mods, it is made for the following:
Shojo Race New Vegas and/or Playable Children

This mod has the recreated complete set of Vanilla New Vegas headgear in it, sized, proportioned, and adjusted for the Child / Shojo races. This is not a replacement for the original armor, it is a complete duplication redone, meaning it will not interfere with your current meshes or armor! If you are not playing one of these races the headgear will be much bigger and funnier than normal.

The files are in in ESM / BSA format, with ESP plugins, to make sure this thing works correctly for everyone. Neatly packaged in the FOMOD installation system with an installer, all created by yours truly. Even though I agree the installer is a little ugly right now, I rushed it due to becoming a anxious about this major release. I will revisit and give it a needed face lift later.

Requirements:
FOMM is required for this in order to make installation and use as easy as possible.
NVSE is required to run the Headgear Resizer.

Functionality:
Headgear Resizer -
Instead of using a big fat box of hats like so many other mods this mod includes a Headgear Resizing tool. This tool can be found in your Aid items. This tool allows you to swap your headgear on the go, enabling you to give headgear to your companions if they are shojo or child race, or using the headgear for yourself - either way.

Mod Compatibility -
Thanks to Xodarap, the creator of the XFO-NV project as well as pahncrd who has created PNV I was allowed to create armor mods that make changes to the armor and use their values. These are part of the FOMOD installation, allowing you to pick your poison, so to say. Simply select the mod you want in the installation, and it is a FULL replacement of the mod, meaning if you run a copy of it already, disable it and use this version. They contain everything the old versions do, with the modifications to the new headgear as well.
XFO-NV fully customizable mod
New Vegas Realistic Battle and Dynamic Combat

Known bugs:
1. NO HAIR, AHHH!!!! Most helmets remove your hair if you are not using the original New Vegas hairstyles. This is now a long term project, see below.
2. Clipping - Some hats may still clip unnecessarily. Please report the hat, your race, and gender to help me fix it.

FuturePlans:
CHILD / SHOJO SUNGLASSES - (ready)
I've contacted the creator of LUMENARIUM and he's given me permission to mod his file to include Children / Shojo glasses. So keep an eye on the Lumenarium page for that package!

LUMENARIUM- Sunglasses that work!

IMPORTS OF CUSTOM HAIR - (FINAL)
Another thing that really bugs me is the hair that's totally messed up with the Shojo / Child race. I'll be looking into fixing those as from Vanilla and also contacting authors of Lings and Mikoto to give the races more hairstyles.

UPDATE 2/10 - Have figured out how to do this - to a point. Unfortunately it deals with the hairstyles and they all must be packaged in BSA format which will make testing ridiculously slow. Most have egm files that I've seen, for those hairstyles that don't I'll attempt to make some and get all the packages made.

CUSTOM NEW VEGAS MOD ARMOR - (WIP)
Through time I will be contacting other creators of armor and sizing them and including those pieces of armor in this mod as well. This may grow to include special types of armor that require scripts, but that is a very long term and far off goal. Modders, please send me your requests and I'll begin compiling a list.

Disclaimers:
As of 1/31/11 DO NOT UPLOAD, USE IN OTHER MODS, OR MODIFY THIS FILE WITHOUT MY (AELIETH'S) PERMISSION. This disclaimer will be changed in the future, but as for now I need coddle this thing and make it right before I let people go crazy with it.
I am NOT a graphic artist, I did not even use Blender or 3dMax on this. Through testing values were changed in the armor to scale proportionately to the child / shojo races. In other words: A hack job. May need a real 3D artist to help polish some helms later.



Credits:
grayewolf / EARACHE42 - Anthony Lings
eomanv - Shojo Race Vegas
hinigashi - Child Head-Gear Project
MGE - LUMENARIUM
Xodarap777 - XFO - NV
pahncrd - PNV

Changelog -
Alpha - Original Release
Alpha 2 - Rebreather Script fix, glasses added, major flaws in some vanilla helms fixed
Beta 0.8 - Hat swapper based on NVSE now included in your AID section. Further hat fixes. Mod compatibility included for all XFO armor version and PNV Realistic battle.