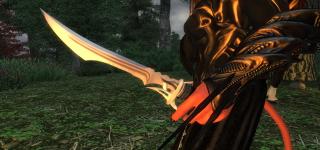 Views: 2,578
2.9.5
Hobbs
This download also includes the optional "Reversed Off-Hand Shadow Knife"

This mod introduces a series of enhancements and add-ons for Ranger Class, namely an advanced animal companion (Panther, Wolf, or Bear). It can be activated either via starting a new game with default ranger class, custom class or applied to existing savegame.

Please note that this mod is based on Nazkira's "The Complete Ranger" mod; I take no credit for the modification itself, only the changes I have implemented.

The "Shadow Ranger" includes over 25 levels of spells, abilities, powers, weapons, and armor.
It also contains many bug fixes not found in the original mod by Nazkira.

Features:

* You can now choose which parts of the mod you would like to install!

- 5 New Ranger Bows
- Shadow, Enchanted, Ranger Arrows and Quiver
- 7 Alternate Textures for Animal Companions
- Shadow Blade, Sword, and Knife with Assassination Effect
- 3 Animal Companions to choose from (Bear, Wolf, and Lion)
- 25 Levels of custom Spells, Effects, and Powers
- 8 Unique Sets of Ranger Armor
- Summon WolfPack or Lion Pride Power
- No Refraction Stealth Effect
- 16 Commands to control your animal companion
- New Ranger Ring and Shadow Ranger Ring
- Shadow Ranger Faction, Camp, and Ranger NPC's
- 4 Cloaks of Camouflage (camouflage textures change in real time depending on your environment)
- 2 Capes/Cloaks of the Ranger (script to put hood up or down).

* See Readme for additional information.

Thanks to...

- Nazkira: Based on his excellent mod.

Weapons:

- Adonnay: Shadow Blade, Sword and Shadow Arrows.
- Nicoroshi: Bow of the Drow model, Ranger Knife, and Ranger Arrows.

Armor:

- AlienSlof: Original leather, chainmail and boots textures.
- Sinblood: Original patterned leather texture.
- TaylorSD: Stealth greaves and Boots meshes/textures.
- Nicoroshi: Modified Elven male cuirass and fixed Mithril male cuirass meshes.
- Adonnay: Original Ranger cuirass and Gauntlets textures.
- Dimitri Mazieres: Meshes mix-n-match, texturing and recoloring.

Misc:

- Adonnay: Shadow Bow effect.
- motub: Greeting fix.
- Emil: Command script fix.
- Dragoon Wraith: Scripting help.
- mko_san: Creating this text document.
- Buhay: Panther and Leopard textures.
- Addiktive: Shadow Ranger Ring.
- ScruggsyWuggsy: Scripting help on assassination effect.
- FlyFightFlea: NightEye Fix and scripting help.
- Beta Testers: Vincent Wyrmwing, mko_san, Reinhart Menken, LionHeart311, & BellJack95.

Update Info:

v 2.9.4

- Corrected bow morph.
- Added optional 'No Shadow Walk' file for the Shadow Steed.