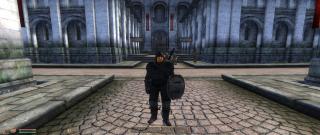 Views: 2,819
1.2
Lord Frostcraig
Name: Shadow Leather Armor
Version: 1.2
Date: 7/19/2010
Category: Armor/Armour
Author(s): LordFrostcraig

Description
===========
This adds a set of leather armor dubbed "Shadow Leather" because it is black. You can buy it all at the Best Defense for around 2000 gold pieces. Look at screen shots for what it looks like. Goes good with the gray cowl.

Location
========
The Best Defense, talk to Maro Rufus and buy it.


Install
=======
1. Extract the files to a temporary location.
2. Examine the folder structure and make corrections where necessary.
3. Copy files to (install folder)OblivionData
4. Start Oblivion Launcher, click 'Data Files', place a checkmark beside the .esp file(s).

Uninstall
=========
1. Start Oblivion Launcher, click Data Files, uncheck the .esp file(s).
2. Delete the files/folders associated with the mod.

All folders named Shadowthief


Incompatibility
===============
Possibly anything that edits the exact same spot where I have the chest in the Best Defense.


History
=======
1.0
Made armor
Added it to the Best Defense
This time made female armor as well

Contact
=======
You can send me an email at lordfrostcraig@gmail.com
A PM on here

Credits
=======
Thanks to Bethesda for creating Oblivion.
Thanks to TESNexus.com for hosting it
Thanks to LHammonds for the Readme Generator this file was based on.


Tools Used
==========
GIMP - http://www.tesnexus.com/downloads/file.php?id=14920
NIFSkope - http://niftools.sourceforge.net/wiki/NifSkope
TES Construction Set - http://www.tesnexus.com/downloads/file.php?id=11367
Readme Generator - http://lhammonds.game-host.org/obmm/tools_readme_generator1.asp

Licensing/Legal
===============
You must contact me and obtain my permission before re-packaging any part of
this mod.