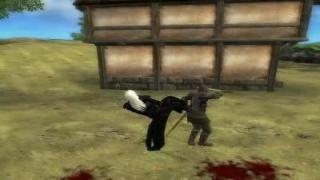 Views: 1,495
1.0
Keter Sephiroth
Description.
This mod changes the skill Hand to Hand Strong Attack Animation (strong attacks that you gain after becoming a Journeyman in H2H and higher) into something that i like more. To be more precise it changes them into kicks that you can find in my
other mod.

Bear in mind that the animation of the npc's that use the same attacks as you, will
also change to this animations. But this is good i think, because it will actually make sense if you make an "martial art faction" or something.
This mod is best played with some other that enhances h2h (like OOO).


NEW IN 2.0 VERSION!
1) Added the "Battle Constructor". Basicaly i converted other kicks from my mod "Seph's New animations" and wrote a tutorial on how to adapt the to certain attack. See instructions in the "Battle Constructor" folder.
2) A new hand to hand stance! Both in 3rd person view and in 1st person view!
3) Thanks to Ryuujin we now have a mod that gives us more armor for 1rst person view kicks! Download the mod here -> http://tesnexus.com/downloads/file.php?id=13426
(recently there was found another cool armor that gives you legs -> http://tesnexus.com/downloads/file.php?id=13991 )
And thanks to Jordan Edwards we have an explanation on how to make one yourself! See the "How to make armor have legs in 1rst person.txt" file


VIDEO SUMMARY
Version 1.0 video -> http://www.youtube.com/watch?v=CxhNk6OeEQo
Version 1.1 video -> http://www.youtube.com/watch?v=zFXJMN-uqpQ
A short video that shows of the new stance -> http://www.youtube.com/watch?v=rYLw6lUOV2c
Version 2.0 video -> http://www.youtube.com/watch?v=7J6qip0Pkkk

INSTALATION
Just copy the "Meshes" folder into your Oblivion/Data folder. No esp needed.

Uninstallation
Remove:
handtohandskill4attackforwardpower.kf
handtohandskill1attackpower.kf
handtohandskill2attackleftpower.kf
handtohandskill2attackrightpower.kf
handtohandskill3attackbackpower.kf
From OblivionDataMeshescharacters_male

If you do not like the new stance, delete
For 3rd person stance:
handtohandidle.kf from OblivionDataMeshescharacters_male

For 1st person stance:
handtohandidle.kf from OblivionDataMeshescharacters_1stperson

CREDITS & LAST WORDS
Trollf, Qazaaq, SaidenStorm and XMarksTheSpot for help on understanding how everything related to animation works and A LOT of patience.

All those who cheered me up, really i would care less if it wasn't for about 50 e-mails that i got from you. Hope you rate as you speak))))

Well, and thanks to my patience))))


VERSION HISTORY
V1.0 Initial Release
v1.1 Added 1rst person kicks, as an optional add-on.
v2.0 Added the "Battle Constructor", new stance and a few tutorials. Unless something hits me in the head, i won't update this mod anymore (due to many problems in my life...but who cares?). If anyone have made some adjustments to the mod, and thinks it should be added to this one, contact me, and i will put upload the changes, and give proper credit of course)))


You can use any part if this mod, as long as you will give me credit for using it, and do NOT use any parts of the mod for gaining money.

Have FUN!