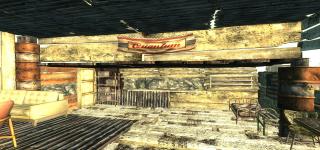 Views: 870
1.3
ANdy & Sislaen
This is pretty much just a shack with a twist. I built the shack entirely out of static objects, and the interior and exterior are in the same outdoor location. What does that mean for you? Well, no loading screens for one. And real views from the windows. In fact, because the building is so shoddy you can see through cracks in the boards right down to the foundation. I also tried to build the house as realistically as possibly, so if you look underneath you will see it has been built on barrels, and barrels also hold the roof up. The floor is double layer plyboard, couresy of prebuilt wall sections.
Includes
Scraps Place V1 for older computers
Scraps Place V1.1

1.3 There is no 1.2, 1.3 is a huge update because it fixes the lame bug where the game would crash entering Moriarty's Saloon. The mod should be entirely bug free now. Thanks a ton to Pro 6AM3R on the Beth forums, he is a god, and should be praised thusly. Praise. Praise. Also, some more clutter. AND BATTLEGNOMES!!! (Watch yourself).

The house has been updated, it now has more clutter and much more lore (if you find the letters). Be sure to check all the items, mot of them are \"Unique\" and named as Scrap would have known them.

First off, Thanks for playing my mod!!
Features:
Entirely in an exterior cell.

No loading screens.

Real veiws from the \"windows\".

Adequate storage.

A sexy homemade fireplace :D

Now with more Map Marker :D

The home is pretty basic, this is for two reasons. One, because EVERYTHING inside the house, and all the building materials are in one cell, so if I loaded the house down with items it would get really laggy loading that cell. Two, the story of the house. (See next)
The story:
Once upon a time there was a supermutant named Scrap. Scrap lived in Germantown with his brothers for many years, but he was not content. Sure blowing up stuff and eating humans was a good distraction, but Scrap yearned to LOVE. Unlike his bretheren Scrap\'s human emotions remained mostly intact, along with most of his intelligence. One day scrap set out to find love, his first move was to make himself a home. For years and years he collected junk from all across the wasteland, until he felt like he had enough to build his hovel. After about 3 days Scrap had a respectable home. It was cozy, comfy, and easily defensible. Scrap lived in the home for about 10 years, ever waiting for love to find him, but it never did. He grew tired...and sad, and lonely. One day he had enough...he left a letter to whomever found the home, wished his home farewell, and did a belly flop off the end of the highway. Now the house waits for whomever might stumble across it.

Installation:
Just drop the ESP in your data folder, and activate it via FOMM or the FO3 launcher.
Deinstallation:
Just delete the ESP :D
Bugs:
There should be no bugs or incompatibilities, unless someone already put something there...in which case you just have to choose which to use.
Fellout:
ecause fellout changes the darkness of nights, and seems to effect the colors during night, making everything seem black and white for me, night time at the house isn\'t very nice looking. If your used to Fellout nights then you\'ll be fine...I just don\'t like the black and white effect with the fire lighting in the house.

Warning: This MAY decrease your FPS due to the large number of objects in the environment. If you can barely play FO3 as it is, you probably won\'t be able to use the house.
Credits:
ethesda for an awesome game.
Pelinor for help on the forums.
Tarrant for help on forums
Miaximus for help as well.
Yevic for inspiration with his awesome housing mods.