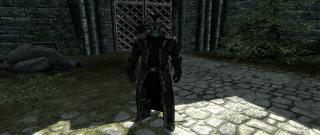 Views: 4,035
1.0
Keyek
This is a companion mod based from my character "Scarmet" which is the name of the companion himself, the companion is a level 40 mage who is very well trained in magic, mainly destruction magic, he is classed as a sorcerer. the companion only uses vanilla scripts for now so the companion can do what any other default vanilla companion can do, the backstory of scarmet is he is a servent to Ancano and came to skyrim with him to serve. currently the companion is very basic, i do plan of working more on this mod in the future, but yet the companion is ment for someone of either a very high level or just completed the main quest for the college of winterhold. he can be found in the courtyard of the college day and night and will return there when you dismiss him.

this mod was made for a good friend of mine, i hope they like it.

do not reupload this mod without my permission, the character in this mod is copyright by keylek. if you would like to contact me about this mod, i can be contacted on "www.modsreloaded.com" as the username "keylek"