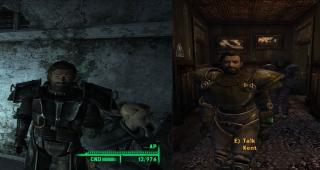 Views: 2,505
0.2
Kentington
Fallout 3 Save Import Utility / Lone Wanderer Companion
v0.2
--------------------

===Changelog===
11/19/2010: Uploaded version 0.2, containing several bugfixes. If the v0.1 program crashed while importing your save file, try downloading the new version.

===What This Mod Does===

This utility allows you to import your Fallout 3 character into Fallout: New Vegas as an NPC companion. Name, level, SPECIAL, skills, perks, sex, race, face, hair, hair color, and head parts are imported. It consists of a base .esm file containing the companion and a binary executable that generates an .esp patch from your Fallout 3 save to modify said companion.

The imported character will serve as a player companion and can be found in the restroom of the Prospector Saloon in Goodsprings. (S)he is set to essential by default.

This mod is intended as a sort of "tech demo" for an upcoming questmod, in which the Lone Wanderer and the Courier will join forces to recover vital data on fusion power from a pre-war research facility... only to discover that the facility may have a mind of its own. Further details and a full trailer will be available "soon" (where the definition of "soon" is fungible and heavily subject to the vagaries of my graduate school workload). Serious modders (ie., those of you with GECK experience or 3D modeling skill) who wish to collaborate on the project are, of course, welcome to contact me (see below).

===What It Doesn't Do===

Data from mods besides vanilla Fallout 3 and official DLC is not imported, nor is there any feasible way to import said data. Non-vanilla races and hairstyles will be replaced by defaults, while non-vanilla perks will simply be ignored.

Inventory is intentionally not imported due to the absence of many FO:3 items in FO:NV's data files.

This mod is not intended to be a fully-featured companion - the Lone Wanderer is not voice-acted, nor does (s)he come with a quest or associated perk. All dialog is merely a (juvenile and sarcastic) placeholder.

No attempt has been made to make this mod canon-friendly. Invent your own reasons for why (s)he can be found staring at a random toilet thousands of miles from home.

On a related note, no attempt has been made to preserve game balance. Enjoy your free power armor and plasma caster.

===Installation===
Place the LW Companion.esm file in your Fallout: New Vegas data folder, then run the FO3 Save Importer utility. Once it has generated the patch, load the FNV mod manager of your choice and add both the .esm and the generated .esp to your load order.

===Known Issues===
Adding perks to NPCs is fairly buggy in Fallout: New Vegas, and many of your FO3 character's perks may not work properly when imported. (Most FO3 perks are useless to import anyway - skill increases are already accounted for by the import process, and NPCs can't use VATS) I've tried to emulate broken perks as closely as possibly by adding actor effects to the companion, but due to the way the engine works this isn't feasible for all perks.

The importer application has been tested on about a dozen different characters, both mine and others', but this sample size is likely too small to catch every possible bug. Please inform me if the program crashes, produces faulty output, or unites the internet into one sapient mind.

Please also be advised that the application requires the .NET framework. Your computer very likely already has it.

===Legal Mumbo-Jumbo===
Reverse-engineering of the Fallout save and mod formats, programming of the executable, and creation of the companion mod were performed by Kent Haeger. I make no claim to ownership of any other Fallout-related resource.

The import utility is free of malware, but I take no responsibility for bugs that may crash your computer, start a nuclear war, or awaken the Old Ones.

===Contact Info===
Direct all questions and comments to kchaeger@wisc.edu, or PM me on the Nexus forums as Kentington.