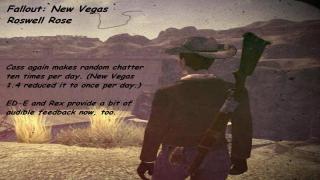 Views: 1,780
2.0
drakeelvin@yahoo.com
Fallout: New Vegas
Roswell Rose
By drakeelvin@yahoo.com
Version 2.0
04-Feb-2012


README


Cass again makes random chatter ten times per day.
(New Vegas 1.4 reduced it to once per day.)

ED-E and Rex provide a bit of audible feedback now, too.


Before New Vegas 1.4, Cass would say random comments once every 2.4 game hours when following the player.

She has a lot of comments and many are related to the player's current location.

No other NPC in the game has such a rich collection of random voice lines.

It was great!


But then, for some dark and unexplained reason, New Vegas 1.4 limited Cass to speaking just once every 24 hours.

This was terrible!


But today there is good news for adoring Cass fans!

This mod reverses that change and Cass once again says something AT LEAST ten times per day.

Because walking the Mojave is just better if you've got the ammo, and the whiskey, and Cass!


And if you are in the mood for a threesome there is a bonus!

ED-E and Rex will randomly beep, bark or growl once in awhile.

Okay, probably not what you were hoping for. Whatever.


INSTALLATION


Requires Fallout: New Vegas 1.4

Extract files to your Data folder and enable the plugin.


NOTES


Rose of Sharon Cassidy is voiced by Rachel Roswell. Hence the name.