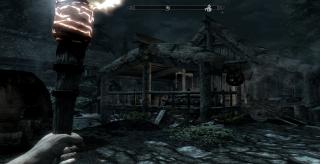 Views: 4,693
1.0
Thiago Serpa Alonso
When you put this ring, the time will be very slow, almost stopped. The time will not be stopped, but really slow. The duration of the spell has no limitation. You can stop time and kill anything that comes. You run faster than the arrows. You will be able to hunt without the animals run away from you.

How to use?
Wear the ring and the time will be slow. Remove the ring and the time back to normal.

Where is it?
In the workshop of Alvor. In Riverwood. Next the table. Check the exact location in the image.

tips:
-Do not use the ring when you open a book. It will open slowly and you will have to wait.
-If you remove the ring and then wear again quickly. The visual effects will take long time to out of your screen.
-put the ring as a favorite and place a shortcut for it. You can "stop" time with just one button.

Bonus: This is a modified Namira Ring, this means that you can eat from corpse.

Beware, the game becomes very easy. Use only for fun.