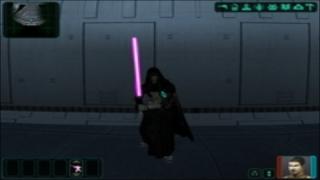 Views: 4,374
1.0
Mandalorian16965
======================================================
A KNIGHTS OF THE OLD REPUBLIC II: (THE SITH LORDS) MODIFICATION
======================================================

DESCRIPTION: this mod will add some new iems to the game which you can only get through cheats. you can get a revans robe with a mas or no mask, revans golves, helmet, belt, shield, lightsaber and implant. everything has high stats. on the robe the immunity death thing * WILL NOT* make to totaly invunrable. to get the items type into the cheat console

"giveitem a_robe_27" for the masked robe
"giveitem a_robe_01" unmasked robe
"giveitem a_helmet_14" revans mask
"giveitem a_belt_01" revans belt
"giveitem a_gloves_01" revans gloves
"giveitem a_shield_01 revans shield
"giveitem g_w_drkjdisbr001"revans lghtsbr

INSTALLATION INSTRUCTIONS: plop all the UTI files into your override folder

COMMENTS: revans mask does not have the apperance just the stats. it has the apperance of the force mask

BUGS: just a stiff cape on both robes

PERMISSIONS: modify it all u want but give me the credit if u want to post it

THIS MODIFICATION IS PROVIDED AS-IS AND IS NOT SUPPORTED BY BIOWARE/OBSIDIAN ENTERTAINMENT OR LUCASARTS OR ANY LICENSERS/SPONSORS OF THE MENTIONED COMPANIES. USE OF THIS FILE IS AT YOUR OWN RISK AND THE ABOVE MENTIONED COMPANIES OR THE AUTHOR IS NOT RESPONSIBLE FOR ANY DAMAGE CAUSED TO YOUR COMPUTER FOR THE USAGE OF THIS FILE.