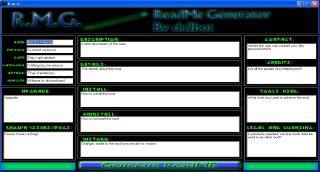 Views: 1,080
0.2
daJbot
Name: ReadMe Generator (R.M.G.)
Version: V0.2 Beta
Date: 12 February 2011
Category: Utilities
Author(s): daJbot



Description
A small program for quickly creating a ReadMe file for your mods.


Details
Run the exe.
Fill in details. Check the checkbox if you want to include a option.

Click on "Generate ReadMe"(Can be found in same folder as the RMG.exe)

Copy to your mod.


Install
Just extract anywhere


Uninstall
Delete the exe.


Known Issues or Bugs
No Bugs.


History
V0.1 Beta ----- First release(Beta)
V0.2 Beta ----- Checkbox system to select only needed options.


Contact
Please comment on the program. If you have idees, I will check the comments section and respond as fast as possible.


Credits
Programming and Graphics By daJbot


Tools Used
Borland Delphi 7.
Photoshop CS5.
GIMP V2.6.6


Licensing/Legal
Do NOT pose as own work!!!
Do NOT package with mods!!!
Do NOT modify in any way without my approval!!!