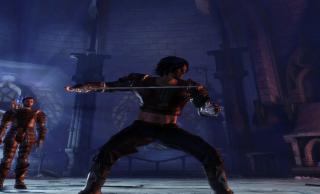 Views: 12,332
1.2
rainshock
Male Morphs and Presets Armor 1.1
(Now with more Elves!)

Basically a "Frankenstein-ing" of Default armors and my own body models and textures.


Updates
Version 1.1:

*Managed to get tints working again so you can now dye your armor via Nezroy's Universal Dye Kit. However to do it I had to make gloves un-tintable. So when you are wearing any of my armors gloves will not get tinrted if you use the UDK. It will tint as normal with all other armors.

*Fixed a number of clipping and animation problems. Warrior Vest now likes nice :)

*Adjusted the textures to better match the facial skintones. Also, forgot to reduce the texture size for the diffuse map. I've cut it in half which should hopefully help performance on some machines. (Probably wont be noticeable)

*Created Elf Versions of all four armors.

*Removed the artificial restriction against mages and got rid of strength/dexterity prerequisites. Armor is now usable by mages. I may add versions with mage/arcane warrior-oriented stats at a later date. Or you could stat them yourself with The Winter Forge.

*Hopefully fixed the issue of multiple armors accumulating (needs more testing). Also added a console command to spawn additional armors should you need them.



The Facts
There is only one body type(Slim/Athletic) and one set of textures (no tattoos yet, sorry), but more will be added later.

*This is my first actual mod so I'm expecting problems. Make sure to bring them up so I can correct them.

*I'll be fixing and adjusting things from user feedback as time goes on so be sure to let me know what you think and what could be improved for future releases.


Installation
If you are updating from a previous version, make sure you uninstall it first before installing this version.

1. Download DAzip
2. Use Daupdater, DAModder, or DAO Mod Manager to install the included DAzip file.


In-game
At the moment it just drops the armor into your inventory. Not the most elegant solution, but I'm garbage at scripting so it will have to do for the moment.

Note: The armors will be added after you load a save game. If you start a new character, save then reload and the armors should appear.


Compatibility
Should be compatible with all other mods but if run into any compatibility related issues, be sure to let me know so I can resolve them.



Known Issues
Always wear gloves with sleeveless armor. Arm models and textures don't match and/or line up with my bodies. I'm working on a fix but in the meantime wear gloves of some sort.

*Characters that are wearing the armors and are far from the player will deform into weird shapes. Will fix soon.

*There's still clipping, animation and texture issues to work out. I'm working on reducing them.


Feedback
Make Sure to let me know what you think. Are the armors too revealing? Not revealing enough? Stats too low? Stats too high? Let me know so I can improve. :)


Credits
Body Models and textures are mine. Armor models and textures are Biowares.

Thanks to Eshme for the max scipts and all the wonderful tutorials on the internet.