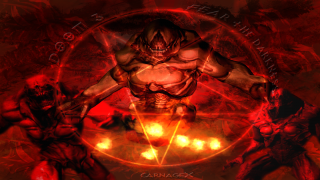 Views: 473
8.04
ulian Mendoza
Doom3 RadioActive Mod by Julian Mendoza(CannibalSativa [at] hotmail [dot] com).8-04.

Warning!!, this mod will kill around 10fps during game play when some of the heavy lighting effects are put to use.

--Whats been modded:--
Zombie bodies dont disintergrate when hit with bullets or fists.

Flares added, last 30 seconds then explode with no harm, uses grenade ammo.

Pistol damage increased, rate of fire decreased, clip size reduced to 7, accuracy decreased, equipped with a laser sight, radiated bullets effect added.

Shotgun damage decreased, projectile number increased, spread decreased, radiated bullets effect added.

Machinegun has radiated bullet effects added.

Grenades now yield a green light when thrown, removed smoke trail effect, radiated explosion effect.

Chaingun now fires clean(no view obscuring barrel smoke), radiated bullets effect added.

Plasma rifles accuracy decreased, plasma shots create enviromental light, radiated shot effects added .

Rockets create green enviromental light.

BFG explosions create "sticky" green enviromental light.

BFG2 added, bfg shot now bounces off of walls, radiation damage increased, explosion damage decreased, uses bfg ammo.

Chainsaw now runs clean(no smoke effect).

--How to install:--
Unzip and Place the "RadAct" folder and its contents in your Doom3\ directory, (example C:\Doom3\RadAct\)

start Doom3 normally, click "Mod's" on the main menu, and select "RadAct" from the list.

--Notes:--
y default the "1" key toggles the Flare weapon, and the "0" key switchs to the BFG2