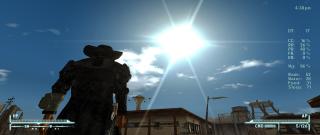 Views: 6,468
2.1
Gopher


This mod is compatible with the Unified HUD Project

Description
I just got so fed up of opening the PipBoy to find out if I need to eat, sleep etc. So I made a quick mod that displays Rads, Water, Food and Sleep on the right hand side. It even has a clock at the top right. Numbers update every two seconds. it also has a lot of other stats such as DT, but you can hide/show different areas to suit your needs. Just want the clock and the Primary Needs? No problem :)

So far I have it working for the default game, MTUI and the Darnified test beta. I believe that it is completely compatible with Revelation UI because that makes no change to the main HUD. Use Vanilla option if using that mod. But send me a message if there is a UI you want me to support.

You should install this mod using the Fall Out Mod Manager (FOMM). You need version 0.13.20 or later.
It absolutely requires the New Vegas Script Extender(NVSE). I am afraid you MUST use NVSE for this mod to work. Sorry, I wish it were otherwise.

Compatible with:
1. MTUI v 1
2. Darnified beta test v 4
3. Shiloh DS - Clean Pipboy Screen
4. PipWare UI New Vegas Edition
5. SimpleHUD
6. AsukaHUD

Conflicts:
This may conflict with any mod altering the UI. However most of these can be fixed using the Unified HUD Project. If you find a mod that does conflict, contact me and I will try to fix it.

Credits:
Darn for the Darnified UI for Fallout 3. The clock was possible because I just looked at how he had done it and copied the principle.