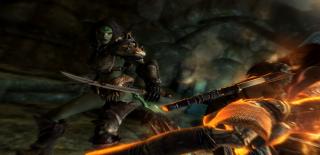 Views: 1,537
1.0
BadassMods
Seven second cooldown for power attacks. Was already written into the game and previously set to zero seconds. Seems to include power bash as well. It does not seem to affect npcs. Now if only there could be a minimum stamina requirement. You can still do normal bashes inbetween cooldowns. Leaves a 3-4 second window after you get a good stagger on an enemy.


Power Attacks
Power attacks can be used to deal extra damage or break through an opponent's block. They are performed by holding down, instead of tapping, the attack button. A power attack has a chance of staggering its target and consumes Stamina.

The amount of Stamina available when you execute a power attack and the amount of Stamina consumed by the attack do not influence how much damage is dealt. However, if you do not have at least one point of Stamina when you attempt to perform a power attack, the Stamina bar will flash green and you will perform a regular attack instead. This means that consuming a potion or food item that Restores Stamina, even as little as one point per second, will allow you to perform endless power attacks until the Restore Stamina effect wears off.


Types of Power Attacks
You can perform several kinds of power attacks depending on which movement control you press as you attack and what weapon you are using. If you push the forward input while performing a power attack, you will execute a dash strike, useful for closing the distance to your enemy quickly. Moving backwards will cause you to step back and then strike, useful for avoiding and countering enemy attacks. Left and right inputs can be used to sidestep enemy attacks, and with the Sweep perk, a left or right power attack can strike all enemies in a forward arc when using a two-handed weapon. If you are dual wielding, holding down both the left and right attack buttons at the same time results in fast, a three-hit power attack that attacks with both weapons. If you are using only your fists, you will perform a similar three punch strike when the same input is used. Both of these attack combinations count as three separate power attacks and will consume Stamina accordingly.