Old Republic Release Date Pushed Forward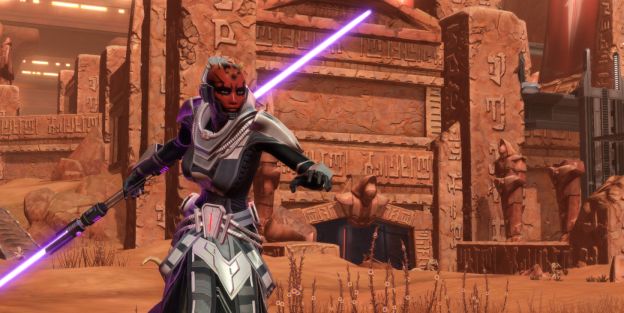 It might be a bit longer than expected before Star Wars fans can dive into the world of The Old Republic. Unnamed development sources have told MCV that the game is now set for a worldwide release this September.

That's months later than the previous target of spring 2011, which had been mentioned by both a BioWare employee and Electronic Arts CEO John Riccitiello last January. Riccitiello didn't refer specifically to The Old Republic, instead mentioning a "major MMO," but The Old Republic seemed to fit the bill. In December, BioWare confirmed the game wouldn't be coming out before April, but that still didn't rule out the possibility of a spring release. Taking extra time, if that proves to be the case, will almost certainly prove to be a good decision given the poor condition that many MMOs have launched in, most recently Final Fantasy XIV.

That time might really be needed if the self-proclaimed EA Louse is to be believed. A supposed BioWare Mythic employee who was set to be laid off blogged late last year about various issues that the developer faced, among them the apparent $300 million budget for The Old Republic. "And you know what they're most proud of? This is the kicker," the blog read. "They are most proud of the sound. No seriously. Something like a 20Gig installation, and most of it is voiceover work. That's the best they have. The rest of the game is a joke. EA knows it and so does George Lucas, they're panicking, and so most of Mythic has already been cannibalized to work in Austin on it because they can't keep pushing back launch." Louse predicted, "Old Republic will be one of the greatest failures in the history of MMOs from EA. Probably at the level of the Sims Online.

With World of Warcraft as strong as ever, The Old Republic will need to be a top-notch game if EA really wants the game to have the ten-year life cycle it's hoping for.
Site Admin

Posts: 2148
Location: UK
Uploads: 22
Kudos: 60
CPU: AMD FX6300 - 3.5 Ghz
GPU: Nvidia GTX 660
RAM: 8GB
Storage Space: 750GB
Sound Card: On board
Case: Corsair Obsidian 550D
---
Old Republic Trailer
There is a video for the Old Republic which looks awesome. The graphics are superb and what you would expect from the Lucas Arts studios. Looking forward to this one...


Site Admin

Posts: 2148
Location: UK
Uploads: 22
Kudos: 60
CPU: AMD FX6300 - 3.5 Ghz
GPU: Nvidia GTX 660
RAM: 8GB
Storage Space: 750GB
Sound Card: On board
Case: Corsair Obsidian 550D
---