Is The Old Republic becoming an old ghost town?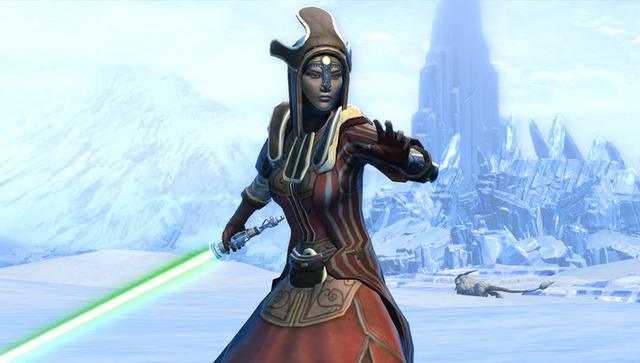 Earlier in the week, Kyle Orland reported that Electronic Arts Star Wars The Old Republic game might be causing a decline in World of Warcraft subscriber numbers, according to an analyst. What's more, The Old Republic might be seeing its own numbers decline.

Some users confirm some of these reports of decline. Commenters on our post shared some of their own anecdotes about declines in usage in the MMO game. cobaltplasma noted, "Almost all of my friends who swapped over to TOR have become fairly bored with it and have been filling time with other interests; having a ton more Diablo 3 and Mists of Pandaria beta invites out there certainly isn't helping, but a majority of them say they're just bored with the game. None cited any hatred or distrust for EA, at least not enough to stop them from subbing in TOR, but all of them are letting their subs lapse."

A dip in subscriptions will likely have an impact on a game developer's bottom line, but according to Xavin, dips are part of the regular cycle of a game. He says, "Anyone who knows anything about MMOs can tell you subscription numbers will drop from launch, probably until the first expansion, that always happens. The thing that really matters is whether the game is stable or in a freefall."

While that report is recent, the Ars OpenForum discussions about the game have been happening for a long time. The forum thread for Star Wars: The Old Republic, is huge, and aptly titled Star Wars: The Old Republic (My Bantha brings all the boys to the yard). This thread has more than 16,000 posts, and it's a good chronicle of the evolution of the game from announcement through the present commercially available version. It's also a great place to join other Ars readers in the game. As you can see from its long history, there's a dedicated group of players who are dedicated to organizing their gaming in the game. But is the forum feeling bullish about participationThe Old Republic as of late?

rtylershaw notes that his fascination with the game has faded, compared against another well known MMO: "I feel guilty about it, but I haven't actually logged in and played in a month now. I'm not sure why -- it's tough to put a finger on an exact reason -- but as someone posted earlier, it just always seems like there's something more interesting to do. I haven't been enthralled like I was with WoW."
On the other hand, other players like Draconos are engaged in the gameplay and even willing to sit through the usua server and patch annoyances that are part of MMOs: "Servers are back online release the KRAKENS!!!!"

Ultimately, it took KParks to address the dropoff cited by the figures in our post: "Yeah, I have to say I give it a bit of a meh. Interesting to know, but I think that everyone expects some dropoff from the initial rush numbers. It always happens, to everyone. What will be interesting is if they are building up a bunch of subscribers or are flat come this time next year. Remember WoW didn't shoot crazy until a few years after launch when they got worldwide market penetration. "

Some of this discussion leads us to the question: does the The Old Republic community have enough of a critical mass to continue playing. Does EA have confidence in these numbers to sustain long-term growth, like KParks suggests? If you're playing the game and you have not yet participated, we'd like to hear if you think the game has what it takes to become a true success, or if players should be packing up their things and looking for greener Bantha pastures.

Source: arstechnica.com
Site Admin

Posts: 2148
Location: UK
Uploads: 22
Kudos: 60
CPU: AMD FX6300 - 3.5 Ghz
GPU: Nvidia GTX 660
RAM: 8GB
Storage Space: 750GB
Sound Card: On board
Case: Corsair Obsidian 550D
---
Re: Is The Old Republic becoming an old ghost town?
Im playing it at the moment and think its great.
As i said in another post somewhere, there are loads of servers to choose to play on, however most of them are lightly populated. If you choose to play on a lightly populated server expect to have no one to do the 2 or 4 player heroics with.
Once i moved to a higher populated server my gaming experience changed for the better. I can see why TOR has so many servers to choose from, its better to be prepared for a high volume of people joining than to not have enough space for everyone, however i reckon at least half of these servers shouldnt allow people to join them until the first half of the servers are full, this way it will stop people choosing empty servers complaining that they are empty everywhere on the net and then refusing to move to a more populated server because they dont want to lose there character.

I have played WOW and TOR and TOR wins hands down!
1.0

Posts: 759
Location: UK, Wales
Uploads: 50
Kudos: 39
Motherboard: Asus Z87K
CPU: Intel quad core i7
GPU: GeForce GTX 660
RAM: 8gig
Storage Space: 1.5 terabytes
Sound Card: Fatal1ty pro
Case: corsair 500d
---
Re: Is The Old Republic becoming an old ghost town?
I saw Martian playing this on his computer recently. The game does look really immersive and I'd love to play it however I can't afford much at the moment. Perhaps if it becomes free one day I might actually get a chance to join it.
Site Admin

Posts: 2148
Location: UK
Uploads: 22
Kudos: 60
CPU: AMD FX6300 - 3.5 Ghz
GPU: Nvidia GTX 660
RAM: 8GB
Storage Space: 750GB
Sound Card: On board
Case: Corsair Obsidian 550D
---