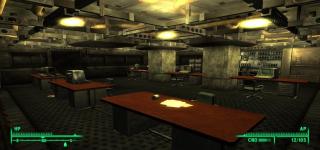 Views: 2,516
1.3
Woodrat
Effects:
Affects three cells north of the Jury Metro Station.
Description:
Places an old military style fallout bunker North/North East of the Jury Metro Station along the bottom of the cliff face for the player to use as a home. Just locate the crumbling fence and the two army trucks and you are in the correct location.
Features of the 1.3 version!:
* A Turret to guard the entrance of the Bunker. Has to be activated via a locked (Average) computer in the Operations Center.
* 6 seperate rooms (Commander's Quarters, Armory, Storage, Operations Center, Mess Hall, Food Storage)
* Several containers (which should not respawn) and several shevles all around.
* Two different rooms to call your home (Commander's Quarters, Armory) each has a bed which grants the 'well-rested' condition.
* Two Workbenches (Storage, Armory)
* Some loot in the Armory itself (Behind a locked door, either need to be able to hack a 'hard' terminal or lockpick the door of the same level)
* Companion friendly! Has navimeshes.
* Fast Travel! You can now instantly zip straight to the bunker door instead of having to walk from the Jury Metro Station.
* Two Nuka-Cola Machines that will provide Icy Cold Nuka-Cola
Changes from 1.1:
- 1.2 was not released, was not satisfied with how large the messhall kitchen were. Reduced both in size and moved the food storage.

- Removed the commander's terminal. What was on it does not mesh with what has been openned up right now.

- Access to the Mess Hall and Food Storage.
Notes:
It began as a two/three day project and now has extended even further. I have not been able to do extensive playtesting but all the visiable bugs that I could erase I have done so. This is my first mod (actually second but it was my major learning experence in getting introduced to the G.E.C.K. editor) thus there can be several bugs that I was not able to pick up on right off the bat. Please contact me if you find any other bugs.
Known Bugs or Issues:
* Loot in the armory could be perhaps a little overpowered. I doubt so, but if enough people feel so I will tone it down a bit, if not or get a difference response I may add more.

* Navimeshes within the base and outside could still be problematic, I do not normally use companions so I had to use Dogmeat to test many of them. He can get slightly hung up behind the desk in the armory and perhaps between the two rows of shelves in storage. If there are any bugs please send me an e-mail (please make it a polite one) at (woodratt@hotmail.com)

*Don't Erase the targeting data for the Turret!! If you do this WILL make the turret hostile, you won't like it hostile.

*Bumping the shelf with the plates and cafeteria trays could cause them to become knocked off, same with the food.
Installation & Updating:
Install everything except the readme to your Fallout3/Data folder, check the box in the data files and you should be good to go.

If updating, please take all of your loot and gear out of the previous version. Leave the area and then save. Remove the previous verison and replace with this version's .esp then check the box in the data files.
Uninstalling:
emove the .esp and the these following mesh files.

meshes/furniture/navalchair01t
meshes/clutter/fridge
Permission & Contact:
Feel free to use any ideas/elements of my mod in yours as you see fit. Just please, give credit where credit is due (and send me a message). For all other inquiries, comments, and suggestions for future addtions please direct your mail to (woodratt@hotmail.com)
Future Potential Updates:
-If demand is high enough I could possibly make the potential updates. Along with any player suggestions.

* Access to the other parts of the base now inaccessible. (Level 2, Level 3)

* Perhaps guards (robot or otherwise)

* More extended surface area (May have to move to a different spot)

* Change the loot in the armory to be a bit more suitable style (such as the loot in the Wheaton Armory)

* Layout changes (like moving the armory to level 2 or expanding it) if anyone has suggestions of a better layout (while it still making sense) please contact me.

* Readding some sort of back story and more of a challenge to be rewarded with the base.