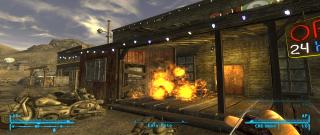 Views: 1,765
1.0
Ashen7
This mod simply adds the Nuka Grenades from Fallout 3 back into the game. The assets were included in New Vegas, but for some reason were left out. You can craft them if you have the schematics, which have also been added. However, they function slightly differently then in Fallout 3. Having multiple copies of the schematics does not increase the quality or quantity of the grenades, plus there is no longer more then one copy. You are still required to have the schematics to create the grenades however.

The schematics can be found in Klamath Bob's Liquor Store in Westside. (Where, consequently, you can find all the materials necessary to create a grenade!) Screenshots showing the location of the Schematics are included in the zip.

The grenades have the exact same stats from FO3. There has been one alteration to the ingredients though. It no longer requires a Nuka Cola Quantum and has been replaced by a Nuka Cola Victory. I did this because there are very few Quantums in New Vegas, and there are much more Victories. Plus you can actually create your own bottles of Nuka Cola Victory if you get the Nuka Chemist Perk. So, technically you could make an infinite number of Nuka-Grenades as long as you can find regular Nuka Colas. (Which are on random spawn lists, so you should always be able to find some) Whereas you could only make a finite number in FO3 due to there only being so many Quantums in the world.