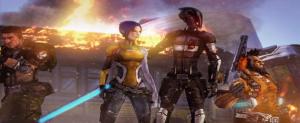 Views: 1,123
1.2
Mishant
About
This Small tweak for the Borderlands 2 game lets you Skip the 3 Long Intro Videos Automatically. Thus helps you to jump straight into Action just after Starting the Game.


How it works?
It basically replaces the original videos with empty video files. So I would recommend you make a backup if you ever want to restore them a later point in the future.


Installation
Extract the WillowGame folder into your Borderlands folder.


Included Files
NVidia.bik
Gearbox_logo.bik
2K_logo.bik