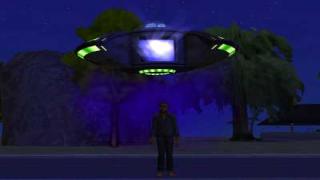 Views: 1,192
1.0
Breyaya
This is one of several mods for the Sims 3 Seasons game which either reduces or removes the Alien abductions.



Files Page
No Alien Abductions
Less Alien Abductions



Alien Abductions
Aliens and alien abduction return in The Sims 3: Seasons. Abduction can occur when a Sim is on the same lot as a UFO. A Sim who has been abducted will have a negative "Abducted" moodlet for 10 hours. There is a 2% chance a Sim will get abducted at night. An additional +13% chance will be added if the Sim stargazes through a telescope, and an extra +38% chance will be added for each space rock in a Sim's inventory, up to +75%.

When an abduction occurs, multi-colored sparkles will appear in the sky. All actions in the soon-to-be-abducted Sim's queue will be canceled, and will be replaced with the "Investigate Mysterious Anomaly" action. During this action, the Sim will walk over to the sparkles and look up at them curiously. Even if the player does not wish the Sim to be abducted, this action cannot be canceled. Soon after, a UFO will appear, a blue beam will suck the Sim up into the UFO, and the UFO will then take off. Unlike The Sims 2, the Sim's motive bars are not affected during abduction. Upon return, along with the aforementioned "Abducted" moodlet, the Sim will have a negative thought bubble of the abducting alien, and may also cry.



Female Sims
Female Sims only receive the "Abducted" moodlet after an abduction. There is a 33% chance that a young adult or adult male Sim will get the "Unexpected Weight Gain" moodlet after the "Abducted" moodlet has expired. After the "Unexpected Weight Gain" moodlet has expired, the Sim will give birth. Unlike The Sims 2, the baby will be purely alien, not a hybrid. Also unlike The Sims 2, the player will be given the choice of sending the baby back to the alien homeworld.