Fourth DLC for New Vegas
Lonesome Road - Fallout New Vegas DLC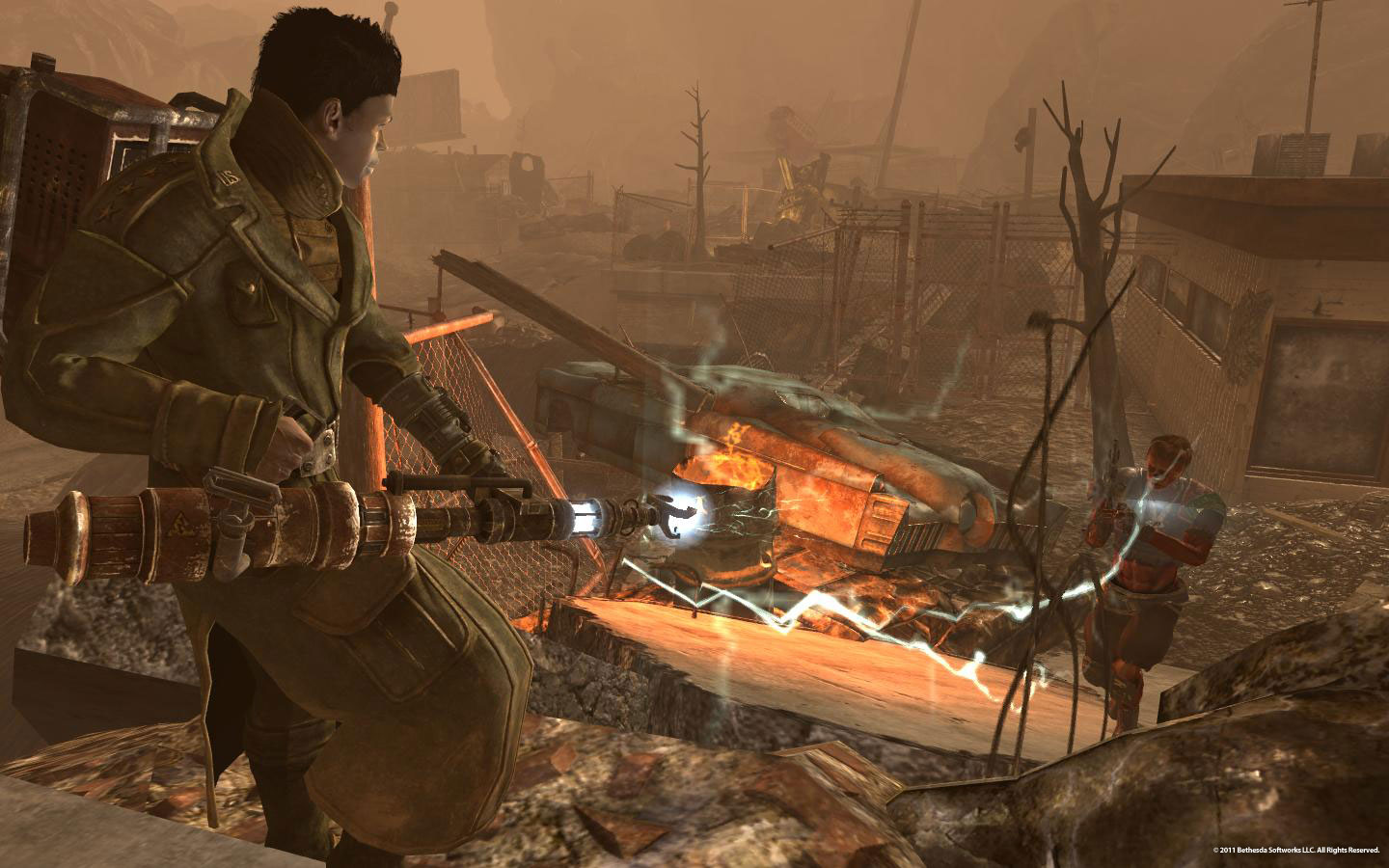 In the upcoming Lonesome Road DLC you are contacted by the original Courier Six character, a man by the name of Ulysses who refused to deliver the Platinum Chip at the start of Fallout New Vegas. Ulysses promises the answer as to why he didn't take the job, but only if you make one last journey into the hurricane-swept canyons of the Divide, a landscape torn apart by earthquakes and violent storms. The decision whether you take the job or not is up to you....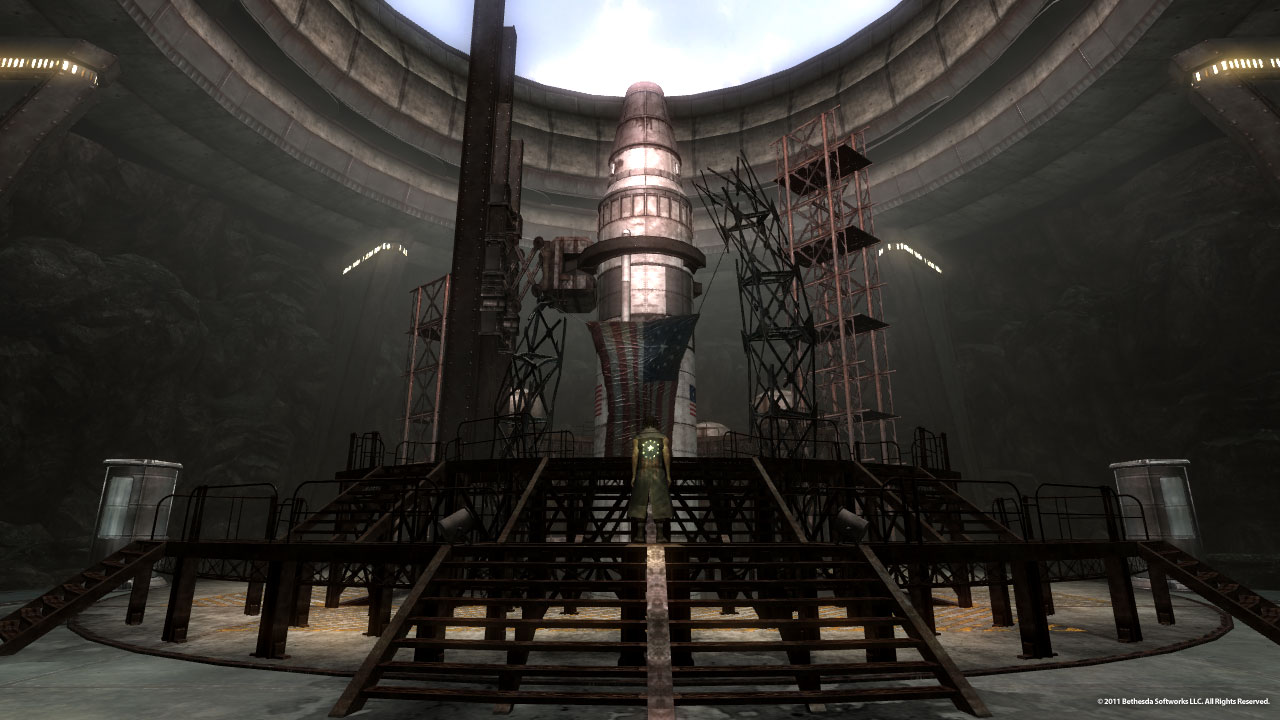 Huge Rocket Launcher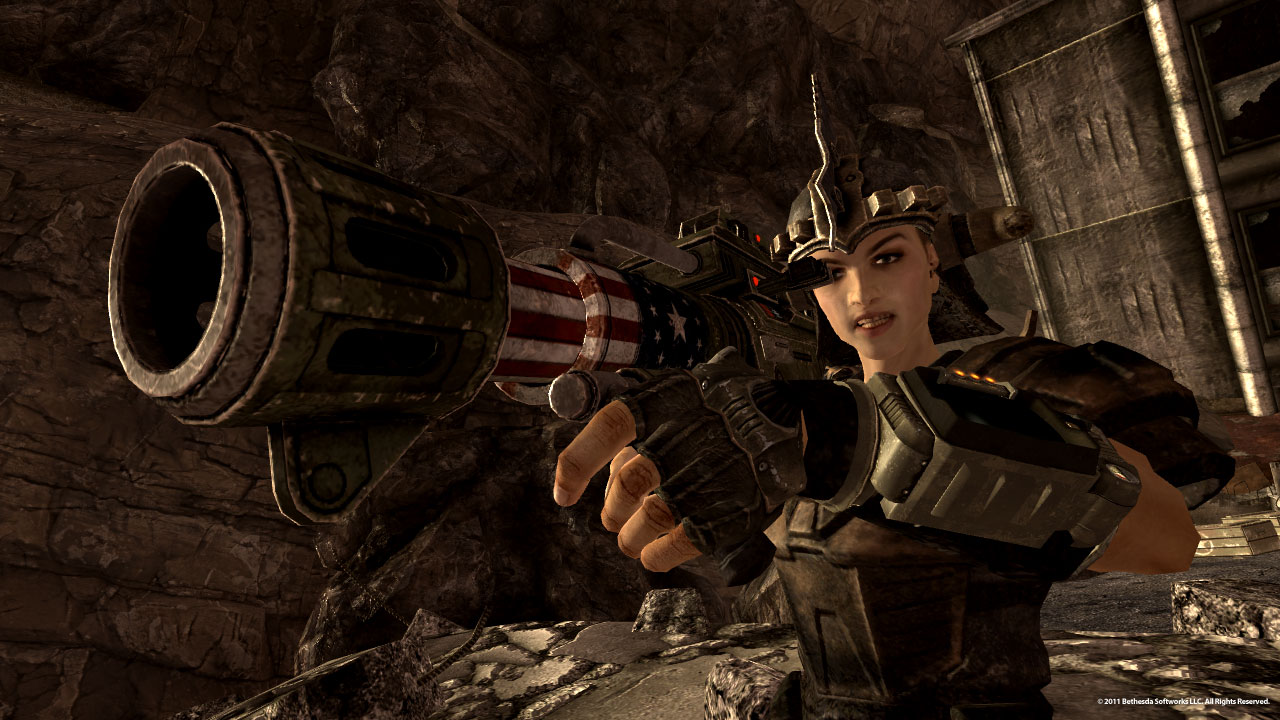 Fallout New Vegas fourth game add-on pack, Lonesome Road, will release on PlayStation 3, Xbox 360, and PC on Tuesday, September 20th.
We are only temporary custodians of the particles which made us - Stephen Hawking
Site Admin

Posts: 2148
Location: UK
Uploads: 22
Kudos: 60
CPU: AMD FX6300 - 3.5 Ghz
GPU: Nvidia GTX 660
RAM: 8GB
Storage Space: 750GB
Sound Card: On board
Case: Corsair Obsidian 550D
---
Re: Fourth DLC for New Vegas
Cannot wait for this, i liked the old ones but i wasnt crazy about them, hopefully this one has alot of new stuff, esp to MOD.

http://www.youtube.com/watch?v=6zcoyQwNT8o
<---for all you talkin **** on the internet
Moderator

Posts: 129
Location: 570
Uploads: 13
Kudos: 8
CPU: Quad Core Intell
RAM: 3gb
Storage Space: 500gb OB - 1Tb xtrl
---
Replica Hublot Big Bang King Mens Watch 322.PM.100.RX [cece]
swiss replica watches aaa+


<a href="http://replicawatch.curitum.ru/">swiss replica watches</a>


<strong><a href="http://replicawatch.curitum.ru/">high quality replica watches</a></strong>
| <strong><a href="http://replicawatch.curitum.ru/">watches</a></strong>
| <strong><a href="http://replicawatch.curitum.ru/">swiss Mechanical movement replica watches</a></strong>
<br>

<title>Replica Hublot Big Bang King Mens Watch 322.PM.100.RX [cece] - $208.00 : Professional replica watches stores, replicawatch.curitum.ru</title>
<meta http-equiv="Content-Type" content="text/html; charset=UTF-8" />
<meta name="keywords" content="Replica Hublot Big Bang King Mens Watch 322.PM.100.RX [cece] Replica IWC Portuguese 7 Days Replica Hublot Watches Replica IWC Watches Replica Panerai Watches Replica Patek Philippe Watches Replica Piaget Watches Replica Tag Heuer Watches Replica Audemars Piguet Replica Bell & Ross Watches Replica Cartier Bracelet Replica Rolex Watches Replica Cartier Watches Replica Omega Watches cheap replica watches online sales" />
<meta name="description" content="Professional replica watches stores Replica Hublot Big Bang King Mens Watch 322.PM.100.RX [cece] - Welcome to replica watches outlet stores, the site for all your replica watches needs. The internet is full of vendors and sites trying to sell you replica watches and it isn't always easy finding the most reliable sites. We guarantee the best services with the best replica watches online. replica " />
<meta http-equiv="imagetoolbar" content="no" />


<link rel="canonical" href="http://replicawatch.curitum.ru/replica-hublot-big-bang-king-mens-watch-322pm100rx-p-117.html" />

<link rel="stylesheet" type="text/css" href="http://replicawatch.curitum.ru/includes/templates/polo/css/style_imagehover.css" />
<link rel="stylesheet" type="text/css" href="http://replicawatch.curitum.ru/includes/templates/polo/css/stylesheet.css" />
<link rel="stylesheet" type="text/css" href="http://replicawatch.curitum.ru/includes/templates/polo/css/stylesheet_css_buttons.css" />
<link rel="stylesheet" type="text/css" media="print" href="http://replicawatch.curitum.ru/includes/templates/polo/css/print_stylesheet.css" />










<style>
#sddm
{ margin: 0 auto;
padding: 0;
z-index: 30;
background-color:#F4F4F4;
width: 80px;
height:23px;
float: right;
margin-right: 70px;}

#sddm li
{ margin: 0;
padding: 0;
list-style: none;
float: left;
font: bold 12px arial}

#sddm li a
{ display: block;
margin: 0 1px 0 0;
padding: 4px 10px;
width: 60px;
background: #f4762a;
color: #666;
text-align: center;
text-decoration: none}

#sddm li a:hover
{ background: #49A3FF}

#sddm div
{ position: absolute;
visibility: hidden;
margin: 0;
padding: 0;
background: #EAEBD8;
border: 1px solid #5970B2}

#sddm div a
{ position: relative;
display: block;
margin: 0;
padding: 5px 10px;
width: auto;
white-space: nowrap;
text-align: left;
text-decoration: none;
background: #EAEBD8;
color: #2875DE;
font: 12px arial}

#sddm div a:hover
{ background: #49A3FF;
color: #FFF}
</style>


</head>
<ul id="sddm">
<li><a href="http://replicawatch.curitum.ru/" onmouseover="mopen('m1')" onmouseout="mclosetime()">Language</a>
<div id="m1" onmouseover="mcancelclosetime()" onmouseout="mclosetime()">
<a href="http://replicawatch.curitum.ru/de/">
<img src="http://replicawatch.curitum.ru/langimg/gericon.gif" alt="Deutsch" title=" Deutsch " height="15" width="24">Deutsch</a>
<a href="http://replicawatch.curitum.ru/fr/">
<img src="http://replicawatch.curitum.ru/langimg/fricon.gif" alt="Français" title=" Français " height="15" width="24">Français</a>
<a href="http://replicawatch.curitum.ru/it/">
<img src="http://replicawatch.curitum.ru/langimg/iticon.gif" alt="italiano" title=" italiano " height="15" width="24">Italiano</a>
<a href="http://replicawatch.curitum.ru/es/">
<img src="http://replicawatch.curitum.ru/langimg/esicon.gif" alt="Español" title=" Español " height="15" width="24">Español</a>
<a href="http://replicawatch.curitum.ru/pt/">
<img src="http://replicawatch.curitum.ru/langimg/pticon.gif" alt="Português" title=" Português " height="15" width="24">Português</a>
<a href="http://replicawatch.curitum.ru/jp/">
<img src="http://replicawatch.curitum.ru/langimg/jpicon.gif" alt="日本語" title=" 日本語 " height="14" width="24">日本語</a>
<a href="http://replicawatch.curitum.ru/ru/">
<img src="http://replicawatch.curitum.ru/langimg/ruicon.gif" alt="russian" title=" russian " height="15" width="24">Russian</a>
<a href="http://replicawatch.curitum.ru/ar/">
<img src="http://replicawatch.curitum.ru/langimg/aricon.gif" alt="arabic" title=" arabic " height="15" width="24">Arabic</a>
<a href="http://replicawatch.curitum.ru/no/">
<img src="http://replicawatch.curitum.ru/langimg/noicon.gif" alt="norwegian" title=" norwegian " height="15" width="24">Norwegian</a>
<a href="http://replicawatch.curitum.ru/sv/">
<img src="http://replicawatch.curitum.ru/langimg/svicon.gif" alt="swedish" title=" swedish " height="15" width="24">Swedish</a>
<a href="http://replicawatch.curitum.ru/da/">
<img src="http://replicawatch.curitum.ru/langimg/daicon.gif" alt="danish" title=" danish " height="15" width="24">Danish</a>
<a href="http://replicawatch.curitum.ru/nl/">
<img src="http://replicawatch.curitum.ru/langimg/nlicon.gif" alt="Nederlands" title=" Nederlands" height="15" width="24">Nederlands</a>
<a href="http://replicawatch.curitum.ru/fi/">
<img src="http://replicawatch.curitum.ru/langimg/fiicon.gif" alt="finland" title=" finland " height="15" width="24">Finland</a>
<a href="http://replicawatch.curitum.ru/ie/">
<img src="http://replicawatch.curitum.ru/langimg/gaicon.gif" alt="ireland" title=" ireland " height="15" width="24">Ireland</a>
<a href="http://replicawatch.curitum.ru/">
<img src="http://replicawatch.curitum.ru/langimg/icon.gif" alt="English" title=" English " height="15" width="24">English</a>
</div>
</li>
</ul>
<div>





<div id="head">
<div id ="head_bg">

<div id="head_right">
<div id="head_right_top">
</div>
<div id="head_right_bottom">
<div id="head_right_bottom_left">
Welcome!
<a href="http://replicawatch.curitum.ru/index.php?main_page=login">Sign In</a>
or <a href="http://replicawatch.curitum.ru/index.php?main_page=create_account">Register</a>

</div>
<div id="head_right_bottom_right">
<div id="cartBoxEmpty"><a href="http://replicawatch.curitum.ru/index.php?main_page=shopping_cart"><img class="cart-icon empty float-left" src="http://replicawatch.curitum.ru/includes/templates/polo/images/spacer.gif" /></a>Your cart is empty</div>
</div>
</div>
</div>





<div class="clear" style="clear:both"></div>



<div id="head_left">
<a href="http://replicawatch.curitum.ru/"><img src="http://replicawatch.curitum.ru/includes/templates/polo/images/logo.gif" alt="Powered by Zen Cart :: The Art of E-Commerce" title=" Powered by Zen Cart :: The Art of E-Commerce " width="243" height="82" /></a></div>

<div id="head_center">
<form name="quick_find_header" action="http://replicawatch.curitum.ru/index.php?main_page=advanced_search_result" method="get"><input type="hidden" name="main_page" value="advanced_search_result" /><input type="hidden" name="search_in_description" value="1" /><div class="search-header-input"><input type="text" name="keyword" size="32" maxlength="130" value="Search..." onfocus="if (this.value == 'Search...') this.value = '';" onblur="if (this.value == '') this.value = 'Search...';" /></div><div class="button-search-header"><input type="image" src="http://replicawatch.curitum.ru/includes/templates/polo/images/search_header_button.gif" value="Serch" /></div></form> </div>









</div>
</div>
<div class="clear" style="clear:both"></div>
<div id="header_menu">
<ul id="lists">


<div class="menu-middle">
<ul>
<li class="is-here"><a href="http://replicawatch.curitum.ru/index.php">Home</a></li>
<li class="menu-mitop"><a href="http://replicawatch.curitum.ru/replica-rolex-watches-c-20.html">Replica Rolex Watches</a></li>
<li class="menu-mitop"><a href="http://replicawatch.curitum.ru/replica-omega-watches-c-22.html">Replica OMEGA Watches</a></li>
<li class="menu-mitop"><a href="http://replicawatch.curitum.ru/replica-cartier-watches-c-21.html">Replica Cartier Watches</a></li>
</ul>
</div>



</ul>

</div>

<div class="clear" style="clear:both"></div>
<div id="content">
<table width="100%" border="0" cellspacing="0" cellpadding="0" id="contentMainWrapper">
<tr>

<td id="navColumnOne" class="columnLeft" style="width: 220px">
<div id="navColumnOneWrapper" style="width: 220px">
<div class="leftBoxContainer" id="currencies" style="width: 220px">
<div class="sidebox-header-left "><h3 class="leftBoxHeading " id="currenciesHeading"><label>Currencies</label></h3></div>
<div id="currenciesContent" class="sideBoxContent centeredContent"><form name="currencies_form" action="http://replicawatch.curitum.ru/" method="get"><select name="currency" onchange="this.form.submit();">
<option value="USD" selected="selected">US Dollar</option>
<option value="EUR">Euro</option>
<option value="GBP">GB Pound</option>
<option value="CAD">Canadian Dollar</option>
<option value="AUD">Australian Dollar</option>
<option value="JPY">Jappen Yen</option>
<option value="NOK">Norske Krone</option>
<option value="SEK">Swedish Krone</option>
<option value="DKK">Danish Krone</option>
<option value="CNY">CNY</option>
</select>
<input type="hidden" name="main_page" value="product_info" /><input type="hidden" name="products_id" value="117" /></form></div></div>


<div class="leftBoxContainer" id="categories" style="width: 220px">
<div class="sidebox-header-left main-sidebox-header-left"><h3 class="leftBoxHeading main-sidebox-header-right" id="categoriesHeading">Categories</h3></div>
<div id="categoriesContent" class="sideBoxContent">
<div class="categories-top-list no-dots"><a class="category-top" href="http://replicawatch.curitum.ru/replica-iwc-watches-c-10.html">Replica IWC Watches</a></div>
<div class="categories-top-list "><a class="category-top" href="http://replicawatch.curitum.ru/replica-cartier-watches-c-21.html">Replica Cartier Watches</a></div>
<div class="categories-top-list "><a class="category-top" href="http://replicawatch.curitum.ru/replica-audemars-piguet-c-16.html">Replica Audemars Piguet</a></div>
<div class="categories-top-list "><a class="category-top" href="http://replicawatch.curitum.ru/replica-bell-ross-watches-c-17.html">Replica Bell & Ross Watches</a></div>
<div class="categories-top-list "><a class="category-top" href="http://replicawatch.curitum.ru/replica-cartier-bracelet-c-18.html">Replica Cartier Bracelet</a></div>
<div class="categories-top-list "><a class="category-top" href="http://replicawatch.curitum.ru/replica-hublot-watches-c-9.html"><span class="category-subs-selected">Replica Hublot Watches</span></a></div>
<div class="categories-top-list "><a class="category-top" href="http://replicawatch.curitum.ru/replica-iwc-portuguese-7-days-c-5.html">Replica IWC Portuguese 7 Days</a></div>
<div class="categories-top-list "><a class="category-top" href="http://replicawatch.curitum.ru/replica-omega-watches-c-22.html">Replica Omega Watches</a></div>
<div class="categories-top-list "><a class="category-top" href="http://replicawatch.curitum.ru/replica-panerai-watches-c-12.html">Replica Panerai Watches</a></div>
<div class="categories-top-list "><a class="category-top" href="http://replicawatch.curitum.ru/replica-patek-philippe-watches-c-13.html">Replica Patek Philippe Watches</a></div>
<div class="categories-top-list "><a class="category-top" href="http://replicawatch.curitum.ru/replica-piaget-watches-c-14.html">Replica Piaget Watches</a></div>
<div class="categories-top-list "><a class="category-top" href="http://replicawatch.curitum.ru/replica-rolex-watches-c-20.html">Replica Rolex Watches</a></div>
<div class="categories-top-list "><a class="category-top" href="http://replicawatch.curitum.ru/replica-tag-heuer-watches-c-15.html">Replica Tag Heuer Watches</a></div>
</div></div>


<div class="leftBoxContainer" id="featured" style="width: 220px">
<div class="sidebox-header-left "><h3 class="leftBoxHeading " id="featuredHeading">Featured - <a href="http://replicawatch.curitum.ru/featured_products.html">&nbsp;&nbsp;[more]</a></h3></div>
<div class="sideBoxContent centeredContent"><a href="http://replicawatch.curitum.ru/replica-cartier-santos-demoiselle-steel-ladies-watch-w25064z5-p-84.html"><img src="http://replicawatch.curitum.ru/images/_small//watches_23/Cartier-Watches/Swiss-Cartier-Santos-Demoiselle-Steel-Ladies.jpg" alt="Replica Cartier Santos Demoiselle Steel Ladies Watch W25064Z5 [c117]" title=" Replica Cartier Santos Demoiselle Steel Ladies Watch W25064Z5 [c117] " width="130" height="130" /></a><a class="sidebox-products" href="http://replicawatch.curitum.ru/replica-cartier-santos-demoiselle-steel-ladies-watch-w25064z5-p-84.html">Replica Cartier Santos Demoiselle Steel Ladies Watch W25064Z5 [c117]</a><div><span class="normalprice">$849.00 </span>&nbsp;<span class="productSpecialPrice">$204.00</span><span class="productPriceDiscount"><br />Save:&nbsp;76% off</span></div></div><div class="sideBoxContent centeredContent"><a href="http://replicawatch.curitum.ru/replica-cartier-santos-galbee-unisex-replica-watch-w20060d6-p-83.html"><img src="http://replicawatch.curitum.ru/images/_small//watches_23/Cartier-Watches/Swiss-Cartier-Santos-Galbee-Unisex-Replica-Watch-4.jpg" alt="Replica Cartier Santos Galbee Unisex Replica Watch W20060D6 [5422]" title=" Replica Cartier Santos Galbee Unisex Replica Watch W20060D6 [5422] " width="130" height="130" /></a><a class="sidebox-products" href="http://replicawatch.curitum.ru/replica-cartier-santos-galbee-unisex-replica-watch-w20060d6-p-83.html">Replica Cartier Santos Galbee Unisex Replica Watch W20060D6 [5422]</a><div><span class="normalprice">$846.00 </span>&nbsp;<span class="productSpecialPrice">$203.00</span><span class="productPriceDiscount"><br />Save:&nbsp;76% off</span></div></div><div class="sideBoxContent centeredContent"><a href="http://replicawatch.curitum.ru/replica-cartier-santos-galbee-steel-ladies-watches-w20056d6-p-80.html"><img src="http://replicawatch.curitum.ru/images/_small//watches_23/Cartier-Watches/Swiss-Cartier-Santos-Galbee-Steel-Ladies-Watches.jpg" alt="Replica Cartier Santos Galbee Steel Ladies Watches W20056D6 [8be5]" title=" Replica Cartier Santos Galbee Steel Ladies Watches W20056D6 [8be5] " width="130" height="130" /></a><a class="sidebox-products" href="http://replicawatch.curitum.ru/replica-cartier-santos-galbee-steel-ladies-watches-w20056d6-p-80.html">Replica Cartier Santos Galbee Steel Ladies Watches W20056D6 [8be5]</a><div><span class="normalprice">$769.00 </span>&nbsp;<span class="productSpecialPrice">$205.00</span><span class="productPriceDiscount"><br />Save:&nbsp;73% off</span></div></div></div>

</div></td>
<td id="columnCenter" valign="top">

<div id="navBreadCrumb"> <a href="http://replicawatch.curitum.ru/">Home</a>&nbsp;::&nbsp;
<a href="http://replicawatch.curitum.ru/replica-hublot-watches-c-9.html">Replica Hublot Watches</a>&nbsp;::&nbsp;
Replica Hublot Big Bang King Mens Watch 322.PM.100.RX [cece]
</div>






<div class="centerColumn" id="productGeneral">




<form name="cart_quantity" action="http://replicawatch.curitum.ru/replica-hublot-big-bang-king-mens-watch-322pm100rx-p-117.html?action=add_product" method="post" enctype="multipart/form-data">

<div style="float:left; width:350px;">











<link rel="stylesheet" href="http://replicawatch.curitum.ru/style/jqzoom.css" type="text/css" media="screen" />

<link rel="stylesheet" href="http://replicawatch.curitum.ru/style/jqzoomimages.css" type="text/css" media="screen" />

<style type="text/css">
.jqzoom{

float:left;

position:relative;

padding:0px;

cursor:pointer;
width:301px;
height:300px;
}</style>













<div id="productMainImage" class="centeredContent back">


<div class="jqzoom" > <a href="http://replicawatch.curitum.ru/replica-hublot-big-bang-king-mens-watch-322pm100rx-p-117.html" ><img src="http://replicawatch.curitum.ru/images//watches_23/Hublot-Watches/Swiss-Hublot-Big-Bang-King-Mens-Watch-322-PM-100.jpg" alt="Replica Hublot Big Bang King Mens Watch 322.PM.100.RX [cece]" jqimg="images//watches_23/Hublot-Watches/Swiss-Hublot-Big-Bang-King-Mens-Watch-322-PM-100.jpg" id="jqzoomimg"></a></div>

<div style="clear:both;"></div>



<div id='jqzoomimages' class="smallimages"></div>




</div>

</div>
<div style="width:260px; float:left; margin-left:30px; margin-top:15px;" id='pb-left-column'>
<div style="font-weight:bold; padding-bottom:10px; font-size:14px;">Replica Hublot Big Bang King Mens Watch 322.PM.100.RX [cece]</div>

<span id="productPrices" class="productGeneral">
<span class="normalprice">$851.00 </span>&nbsp;<span class="productSpecialPrice">$208.00</span><span class="productPriceDiscount"><br />Save:&nbsp;76% off</span></span>











<div id="cartAdd">
Add to Cart: <input type="text" name="cart_quantity" value="1" maxlength="6" size="4" /><br /><br /><input type="hidden" name="products_id" value="117" /><input type="image" src="http://replicawatch.curitum.ru/includes/templates/polo/buttons/english/button_in_cart.gif" alt="Add to Cart" title=" Add to Cart " /> </div>

<br class="clearBoth" />
</div>



<br class="clearBoth" />

<div id="productDescription" class="productGeneral biggerText">
<div class="tabTitles">
<ul>
<li> <h4 tid="t1" class="cur"><strong class=""><span>Description</span></strong></h4> </li>
</ul>
</div>
<p>Welcome to replica watches outlet stores, the site for all your replica watches needs. The internet is full of vendors and sites trying to sell you replica watches and it isn't always easy finding the most reliable sites. We guarantee the best services with the best replica watches online. replica watches are everywhere, and it's important that you're getting the best available on the market today. </p></br><p>Case:&nbsp; &nbsp;316L steel PVD 18K rose gold<br />
Dial Color:&nbsp; &nbsp;Black<br />
Movement:&nbsp; &nbsp;Automatic Movement<br />
Functions:&nbsp; &nbsp;Hours, Minutes, Seconds, Date<br />
Crystal:&nbsp; &nbsp;Sapphire - Scratch Resistant, interior anti-reflective<br />
Case Diameter:&nbsp; &nbsp;48.0 mm<br />
Caseback:&nbsp; &nbsp;Solid Case Back<br />
Bezel Function:&nbsp; &nbsp;Unidirectional Rotating<br />
Water Resistance<br />
Calendar:&nbsp; &nbsp;date at 3<br />
Watch Bracelet / Strap:&nbsp; &nbsp;Rubber - Black</p>
<p>&nbsp;</p>
<p></p>
<p></p></div>

<br class="clearBoth" />


<div id="img_bg" align="center">

<p style='text-align:center;'><a target="_blank" href="http://replicawatch.curitum.ru/images//watches_23/Hublot-Watches/Swiss-Hublot-Big-Bang-King-Mens-Watch-322-PM-100-1.jpg"><img itemprop="image" src="http://replicawatch.curitum.ru/images//watches_23/Hublot-Watches/Swiss-Hublot-Big-Bang-King-Mens-Watch-322-PM-100-1.jpg" width=700px alt="/watches_23/Hublot-Watches/Swiss-Hublot-Big-Bang-King-Mens-Watch-322-PM-100-1.jpg"/></a></p><p style='text-align:center;'><a target="_blank" href="http://replicawatch.curitum.ru/images//watches_23/Hublot-Watches/Swiss-Hublot-Big-Bang-King-Mens-Watch-322-PM-100-2.jpg"><img itemprop="image" src="http://replicawatch.curitum.ru/images//watches_23/Hublot-Watches/Swiss-Hublot-Big-Bang-King-Mens-Watch-322-PM-100-2.jpg" width=700px alt="/watches_23/Hublot-Watches/Swiss-Hublot-Big-Bang-King-Mens-Watch-322-PM-100-2.jpg"/></a></p>
</div>






<div class="centerBoxWrapper" id="similar_product">
<h2 class="centerBoxHeading">Related Products</h2>

<table><tr>
<td style="display:block;float:left;width:24.5%;">
<div style="width:160px;height:200px;">
<a href="http://replicawatch.curitum.ru/replica-hublot-big-bang-ayrton-senna-watch-315ci1129rxaes09-p-99.html"><img src="http://replicawatch.curitum.ru/images/_small//watches_23/Hublot-Watches/Swiss-Hublot-Big-Bang-Ayrton-Senna-Watch-315-CI.jpg" alt="Replica Hublot Big Bang Ayrton Senna Watch 315.CI.1129.RX.AES09 [89aa]" title=" Replica Hublot Big Bang Ayrton Senna Watch 315.CI.1129.RX.AES09 [89aa] " width="160" height="160" /></a></div><a href="http://replicawatch.curitum.ru/replica-hublot-big-bang-ayrton-senna-watch-315ci1129rxaes09-p-99.html">Replica Hublot Big Bang Ayrton Senna Watch 315.CI.1129.RX.AES09 [89aa]</a>
</td>
<td style="display:block;float:left;width:24.5%;">
<div style="width:160px;height:200px;">
<a href="http://replicawatch.curitum.ru/replica-hublot-big-bang-king-mens-watch-322pm100rx-p-117.html"><img src="http://replicawatch.curitum.ru/images/_small//watches_23/Hublot-Watches/Swiss-Hublot-Big-Bang-King-Mens-Watch-322-PM-100.jpg" alt="Replica Hublot Big Bang King Mens Watch 322.PM.100.RX [cece]" title=" Replica Hublot Big Bang King Mens Watch 322.PM.100.RX [cece] " width="160" height="160" /></a></div><a href="http://replicawatch.curitum.ru/replica-hublot-big-bang-king-mens-watch-322pm100rx-p-117.html">Replica Hublot Big Bang King Mens Watch 322.PM.100.RX [cece]</a>
</td>
<td style="display:block;float:left;width:24.5%;">
<div style="width:160px;height:200px;">
<a href="http://replicawatch.curitum.ru/replica-hublot-king-power-f1-austin-703nq8512hrftx12-p-108.html"><img src="http://replicawatch.curitum.ru/images/_small//watches_23/Hublot-Watches/Swiss-Hublot-King-Power-F1-Austin-703-NQ-8512-HR.jpg" alt="Replica Hublot King Power F1 Austin 703.NQ.8512.HR.FTX12 [12fa]" title=" Replica Hublot King Power F1 Austin 703.NQ.8512.HR.FTX12 [12fa] " width="160" height="160" /></a></div><a href="http://replicawatch.curitum.ru/replica-hublot-king-power-f1-austin-703nq8512hrftx12-p-108.html">Replica Hublot King Power F1 Austin 703.NQ.8512.HR.FTX12 [12fa]</a>
</td>
<td style="display:block;float:left;width:24.5%;">
<div style="width:160px;height:200px;">
<a href="http://replicawatch.curitum.ru/replica-hublot-king-power-f1-interlagos-703qm1129hrfil11-p-107.html"><img src="http://replicawatch.curitum.ru/images/_small//watches_23/Hublot-Watches/Swiss-Hublot-King-Power-F1-Interlagos-703-QM-1129.jpg" alt="Replica Hublot King Power F1 Interlagos 703.QM.1129.HR.FIL11 [de03]" title=" Replica Hublot King Power F1 Interlagos 703.QM.1129.HR.FIL11 [de03] " width="160" height="160" /></a></div><a href="http://replicawatch.curitum.ru/replica-hublot-king-power-f1-interlagos-703qm1129hrfil11-p-107.html">Replica Hublot King Power F1 Interlagos 703.QM.1129.HR.FIL11 [de03]</a>
</td>
</table>
</div>
















<div id="productReviewLink" class="buttonRow back"><a href="http://replicawatch.curitum.ru/index.php?main_page=product_reviews_write&amp;products_id=117"><img src="http://replicawatch.curitum.ru/includes/templates/polo/buttons/english/button_write_review.gif" alt="Write Review" title=" Write Review " width="98" height="19" /></a></div>
<br class="clearBoth" />














</form>

</div>

</td>



</tr>
</table>
</div>


<div id="navSuppWrapper">
<br class="clearBoth" />
<div id="navSupp" style=" margin-bottom:10px; margin-top:8px; width:100%; text-align:center;">
<a style="color:#000; font:12px;" href="http://replicawatch.curitum.ru/index.php">Home</a>&nbsp;&nbsp;
<a style="color:#000; font:12px;" href="http://replicawatch.curitum.ru/index.php?main_page=shippinginfo">Shipping</a>&nbsp;&nbsp;
<a style="color:#000; font:12px;" href="http://replicawatch.curitum.ru/index.php?main_page=Payment_Methods">Wholesale</a>&nbsp;&nbsp;
<a style="color:#000; font:12px;" href="http://replicawatch.curitum.ru/index.php?main_page=shippinginfo">Order Tracking</a>&nbsp;&nbsp;
<a style="color:#000; font:12px;" href="http://replicawatch.curitum.ru/index.php?main_page=Coupons">Coupons</a>&nbsp;&nbsp;
<a style="color:#000; font:12px;" href="http://replicawatch.curitum.ru/index.php?main_page=Payment_Methods">Payment Methods</a>&nbsp;&nbsp;
<a style="color:#000; font:12px;" href="http://replicawatch.curitum.ru/index.php?main_page=contact_us">Contact Us</a>&nbsp;&nbsp;

</div>

<div style=" margin-bottom:10px; margin-top:10px; width:100%; text-align:center;">
<a style="font-weight:bold; color:#000;" href="http://www.newbizpacks.com/replica-omega-watches-c-4.html" target="_blank">REPLICA OMEGA</a> &nbsp;&nbsp;
<a style="font-weight:bold; color:#000;" href="http://www.newbizpacks.com/replica-patek-philippe-c-24.html" target="_blank">REPLICA PATEK PHILIPPE </a> &nbsp;&nbsp;
<a style="font-weight:bold; color:#000;" href="http://www.newbizpacks.com/replica-rolex-watches-c-3.html" target="_blank">REPLICA ROLEX </a> &nbsp;&nbsp;
<a style="font-weight:bold; color:#000;" href="http://www.newbizpacks.com/replica-iwc-watches-c-7.html" target="_blank">REPLICA IWC </a>&nbsp;&nbsp;
<a style="font-weight:bold; color:#000;" href="http://www.newbizpacks.com/replica-cartier-watches-c-16.html" target="_blank">REPLICA CARTIER </a>&nbsp;&nbsp;
<a style="font-weight:bold; color:#000;" href="http://www.newbizpacks.com/replica-breitling-c-2.html" target="_blank">REPLICA BREITLING </a>&nbsp;&nbsp;

</div>
<DIV align="center"> <a href="http://replicawatch.curitum.ru/replica-hublot-big-bang-king-mens-watch-322pm100rx-p-117.html" ><IMG src="http://replicawatch.curitum.ru/includes/templates/polo/images/payment.png"></a> </DIV>
<div align="center" style="color:#000;">Copyright © 2012-2014 All Rights Reserved. </div>


</div>

</div>







<strong><a href="http://replicawatch.curitum.ru/">swiss replica watches aaa+</a></strong>
<br>
<strong><a href="http://replicawatch.curitum.ru/">swiss replica watches</a></strong>
<br>
0.0

Posts: 2
---