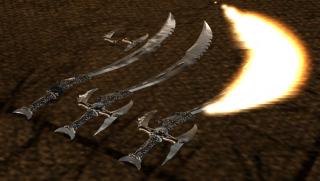 Views: 516
1.0
Dragon Lance
Name: Nerevar's Blade Replacer
Version: 1.0
Date: 5/10/2009
Category: Weapons and Armor
Author(s): Dragon_Lance
Source: PES
Description
===========
After seeing an excellent texture replacer for Trueflame, I gathered the incentive to make a whole new mesh for it. This is simply a replacer of meshes and textures. There is no plug-in needed. There are also reflections and bump-mapping involved to enhance the appearance.
Install
=======
1. Extract the files to your desktop.
2. Simply open the 'data files' folder and copy the contents into your Morrowind 'data files' folder.
This mod doesn't need to be cleaned with TESAME. XD
Uninstall
=========
Icon: vanilla
Meshes prefix: vanilla You will find these meshes in the "w" folder
Texture prefix: 1DL, _1DL and TX
Esp>: none

1.0

Contact
=======
You can find me on the Great House Fliggerty website or the Official Forums.

Credits
=======
Thanks to Phijama once again for making his reflection textures a resource (used on the vanilla textures on the blades).
Thanks to Bethesda for creating Morrowind.
Thanks to the modding community as a whole.
Thanks to LHammonds for the Readme Generator this file was based on.
Thanks to God for creating us all.
Licensing/Legal
===============
This is for personal use only and it shall not be available for upload without my permission. Thanks -D_L