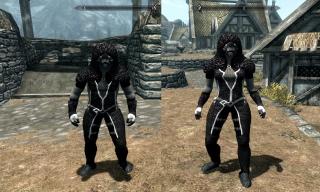 Views: 10,061
1.0
Rebel O Conner
This mod adds the armor from Mass effect 3 game.


Details
It's not a rip, it's fanart, I made all of the models from scratch.


The armor sets are craftable with leather and iron.
The armor is available genders and enable weight morph.
A special dragonscale set is also craftable with dragon scales and gold.
Smithing
Requires enchanted smithing perk.

This special set give defence abilities based on the magic perks.


[imgth]http://modsreloaded.com/downloads/hitcdapo8n/2syoat4qrtth.jpg[/imgth][imgth]http://modsreloaded.com/downloads/hitcdapo8n/z2dr2c7q6ith.jpg[/imgth]

More colors to come.


this mod is under creative commons 3.0 SA-By-NC



Credits
Rebel O'Conner
some textures come from CGTextures. com
some textures by Hhh316 (http://seamless-pixels.blogspot.fr/)



Tools Used
Construction kit
blender
nifscope
paint.net
Make human