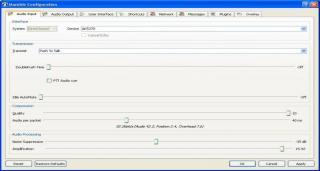 Views: 2,366
1.21
Lord Vader
Mumble is a open source voice chat client, much like Ventrilo. It is designed for use in gaming environments. It runs on Windows, Linux and Mac. Mumble is up and coming in the gaming world, which is mostly dominated by ventrilo and teamspeak. However a few key features seperate Mumble from its competitiors:

*
Higher voice quality: Uses Speex to remove noise and improve overall quality.
*
Far lower latency than other voice clients.
*
Positional audio for supported games (tf2, l4d), means players will "hear" where other players in that game are.

Naturally these advantages come at a price: Mumble is significantly different in use and feel to Ventrilo, and people with poor computer skills may feel out of their depth.

I have made some very brief flash tutorials on installing mumble which are linked below. They are designed to be brief and to the point. I also highly recomend reading the FAQ on the official Mumble/Murmur Wiki. Also on that site are other helpful articles and a link to a IRC channel on freenode if you require assistance with the software.