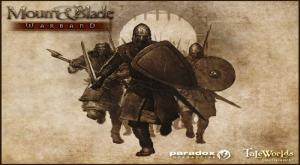 Views: 10,214
1.157
TaleWorlds
Make sure that you always use the newest Mount and Blade: Warband Patch.

Introducing a vast array of brand new features, Warband, the first expansion pack for Mount & Blade, allows a massive number of players to battle each other on a single map in a team death-match style combat.

Assemble your army and train the most fearsome warriors to help you into battle. The ultimate prize is out there. Will you be able to claim the throne of Calradia?

Make sure that you defeat the enemies and protect the lands. Deep kingdom management, real time army command and intense strategic fighting make Mount and Blade a unique experience.


Requirements
Mount and Blade: Warband


What's New in This Release
· Rebalanced in-game economy to encourage a range of propserity among towns (previously most towns became rich or very rich).
· Fixed bug with 'auto_select_weapon_mode' occurring too frequently.
· Fixed a visual error with attacks that are cancelled mid air.
· Fixed animation error with pikes.
· Fixed bug with shadows.
· Added new operations for modders and modified/fixed some existing operations.
· Fixed bug that caused slow movement in certain buildings and with certain scene props.
· Adjusted the way attack cancelling is handled while jumping.
· Added more options to module.ini.
· Bug fixed where throwing axe and throwing knife models would show on shields with the wrong rotations.
· Increased maximum number of different party member and prisoner stacks from 32 to 256.
· Changed netcode to fix a bug where animations would sometimes fail to load.
· Rebalanced Khergit multiplayer troops and added 'Khergit Infantry' class.
· Adjusted price of certain items in multiplayer based on faction (certain items now cost different amounts of gold depending on faction).
· Rebalanced several items to create proper price/quality progression balance in multiplayer.
· Other minor bug fixes.