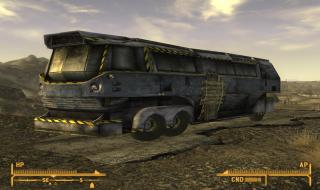 Views: 6,120
1.11
THEKO
MOBILE BUS 1.11
------------------

This mod allow you to fix an old Bus so you will be able to use it to travel up to 14 pre-setted area and 5 areas of your choice

This mod was designed for people who liked my previous mod " The Mobile Vault" but wants a "play and feel" more post-apocalyptic ...

Change in version1.11
----------------------
Change 2 of the bus container so it can retain the inventory (persitent)
Change in version 1.1
---------------------
-You may now have the vanilla companions in the bus (the human conpanion will sit on a bus bench and the "critter" copanion will wait in front of the bed.
-Add a working shower in the bathroom area
-Add a soap creation machine (with the bedding upgrade) so you will be able to produce your homemade soap (busmade soap!)

Change in version 1.02B
-----------------------
Fix the -1.2billion hours traveling time.
Fix the problem of the tracer falling down the map at loading, pulling with it the complete bus.
Fix the Problem of missing texture when installing tires
TESTING version 1.02B
I successfully test the travelling 32 times in a row without bug :-) (preset point and tracers), but i test it without any other mod. For each travel i was exiting the bus wandering in the area, then re-entering the bus then traveling to another area.

COMPATIBILITY
-------------
This mod only add new stuffs and do not change any of the Vanilla contents.
You may only encounter incompatibility with other mod that add building(s) or object(s) in the same areas (but that is unlikely).

The bus will not allow Modded or non-vanilla companion in... but the conpanion will join the player the fist time you fast-travel ( you may exit the bus, then fastravel to it!)

BUGs and issues
--------------
the mod autosave before each trip...
If you're encountering any bug please send me a comment at nexus NV

Synopsys
---------

You find the remains of an old bus just beside of the Prospector Saloon in Good Spring. You may use this bus as a house and if you fix it it may become a "mobile house" so your house will follow you in your quests...

This mod was create with the mind of keeping the balance and the Post-apocalypse style of the game.
THIS MOD INCLUDES
----------------
-Bus meshes
-Some new textures
-The mobile Bus

MOBILE BUS
------------

Completely upgrade bus
-Kitchen area with a Food making Grill
-Sleeping area (with a really confy bed roll)
-A home made work Bench
-Reloadin Ammo Tools
-Mini Lab
-Lots of persistent storage
-5 Geopositioning Tracers

INSTALLATION
-------------
Version 1.0x

Copy all the files in the DATA folder of FalloutNV

Activate the mod in your mod manager or data files, load your savegame, go to the Bus Wreck to begin the "fixing"