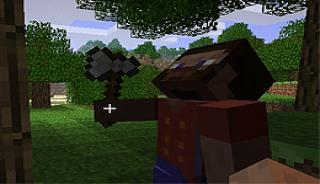 Views: 3,423
0.7 rc12
Various
This modification allows the player to construct their own colony within the world of MineCraft. Allowing you to build lumberjacks, miners, delivery men and farmers. Once built, the NPCs will spawn who will begin to mine/delivery/farm respectively. Upgrade their equipment and continue to grow a colony of your own.



Installation instructions
1) Go To Start > Run
2) Search /%appdata%/
3) Open folder .minecraft (or Roaming -> .minecraft folder)
4) Go into the bin folder
5) Open minecraft.jar with winRAR (or similar programs)
6) Put the MineColony jar files in
7) Delete the meta folder INSIDE minecraft.jar



MineColony v0.7 rc12
Thread: http://www.minecraftforum.net/viewtopic.php?f=25&t=125803
compatible with minecraft Beta 1.6

MineColony mod is some sort of a village simulator with similar mechanics to Anno 1602.
The mod gives you an opportunity to create and manage your own colony in Minecraft.



General Features
different kinds of workers (lumberjack, miner, farmer, builder, delivery man)

basic units - citizens. They occupy jobs and become workers

different level of tools impacts the efficiency of work

when the tool wears out, worker searches his chest for the kind of tool he uses (don't forget to supply lumberjack with axes and miner with pickaxe and shovel)

You can change worker's current tool by dropping it next to them

workers doesn't work during night

workers tell you why they're not working when you get close to them

build houses, decrease taxes and make food for your people to improve their mood

keep workers at work by paying them their salary

use golden scepter on the people to ask them to follow you

use caliper to measure the distance between houses

use bank to make and convert money

use town hall to see overall information about You colony, tips, balance and more

configure mod options in a .property file

Wiki
http://minecolony.wikkii.com/wiki/Main_Page
Share your knowledge about MineColony with others by creating wiki articles. We would really appreciate this, as we have not so much time due to our real live but without a documentation no new people can use this mod without problems. Actually we really need people with wiki experience there so please if you have some work a little bit on it.



Credits
lacozzini
rscott6666
Vlad11
Heho
eastborn



Thanks To
MCP Team (MCP)
Risugami (ModLoader)
Arbr (Miner skin)
godsblade (early skins)
everyone working on the wiki