Topics, Discussions and Guides for the Mass Effect 3 first person shooter.

Mass Effect 3 Origin edition details
by loder » July 11th, 2011, 4:12 pm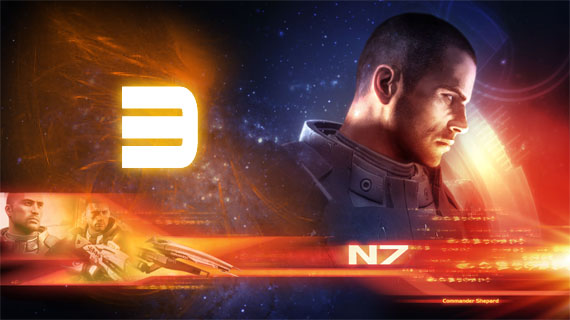 Electronic Arts has detailed an exclusive version of Mass Effect 3 for it's own digital distribution platform, Origin, which will include bundles of extra content for the game.
The Mass Effect 3 N7 Digital Deluxe Edition will be available exclusively through Origin and will cost £54.99 GBP. Below, you can see what it will contain...
Digital commemorative artwork of Commander Shepard.
70-page Digital art book featuring hundreds of unique and gorgeous illustrations from the BioWare development team.
Limited edition Mass Effect digital comic by Dark Horse Comics, complete with unique cover artwork.
Exclusive Digital 4x6 lithographic featuring a one-of-a-kind piece of artwork.
A full collection of in-game content that can't be found anywhere else!
N7 Arsenal Pack – Bring the firepower with the N7 Sniper Rifle, Shotgun, SMG, and Pistol.
Robotic Dog Companion – A faithful sidekick to keep you company on board the Normandy.
Squadmate Alternate Outfit Pack – New appearances for your favorite squad members.
N7 Hoodie – For Commander Shepard's casual days on board the Normandy.
Relive all the greatest moments of Mass Effect 3 with the digital soundtrack.
Display your initiation in the N7 ranks with a collection of forum and social badges, avatars, and perks.
It's also worth noting that Mass Effect 3 is currently unavailable for pre-order on Steam, perhaps due to an ongoing rivalry between Origin and Steam.
We are only temporary custodians of the particles which made us - Stephen Hawking
1.0

Posts: 1789
Location: UK
Uploads: 23
Kudos: 50
CPU: AMD 4000
GPU: Nvidia 6800
RAM: 2560 MB
Storage Space: 580 GB
Sound Card: On board
---
Mass Effect 3 Features
by loder » July 11th, 2011, 4:17 pm
I found some more proposed features on the Bioware forums. I'm not sure how many of these will be true...
The mining mini-game won't be abandoned completely.
The import feature will be present, with more variables than ME2 had.
If your Shepard dies in ME2, you won't be able to import your save in ME3.
ME3 was fully playable during Christmas (Possible 'Hardening' development stage?
If you don't import a save game a 'Previously on Mass Effect' comic will allow you to make major decisions.
Skill trees to be larger.
Powers to evolve more times than once.
Weapon mods to make a return. Not all guns can support all kinds of mods.
classes can wield all weapons, but only Soldiers can have all of them at once. The rest of the classes will have limited slots.
No Multiplayer for ME3
Melee attacks will gain more focus
Shooting specific armor parts can have certain effects, and the AI of the enemies will have them routing Shepard and will coordinate with each other
Enemy Weapons may be used. Bioware is currently testing whether they should drop weapons or not.
NG+ will be a hybrid of ME1's and ME2's. You can go back and finish some stuff in the post-game.
The cover system has been improved
You start out with the basic powers from ME2.
Various enemies have 'built-in' melee weapons. The Assault Troopers for example, will be equipped with 'shock sticks', Shepard will be unable to use them.
Cerberus troops include: Troopers, Centurions, Phantoms, Guardians and Atlas.
Shepard can jump and roll
The Engineer can build turrets, which will distract but not 'decimate' the enemy.
There will be more items to loot
In a few flame attack, Shepard uses his omni-tool to inflict a burn to the enemy.
There will be a one-hit-kill melee attack, depending on your class. The engineer uses the aforementioned flame attack.
Directed energy weapons are around, one of them is a laser gun. They, may however, not be shipped because they are too expensive, performance-wise.
The Reaperised krogan (Brute) wears heavy plates, while the Reaperised asari (Banshee) "has a bit of a potbelly"
You can change the colour and camoflage of weapons.
Partial Leaning has been introduced.
A female Cerberus operative that you'll face in the game, will be one of the most elite troops, but not a boss or a unique character.
You can still dispatch squadmates to waypoints and have access to their class-based powers.
You can shatter the glass of the Cerberus mech, Atlas, and throw the pilot out.
New banter systems have been introduced
You will be able to equip of remove helmets.
Every weapon can be customized with up to five modifications.
Cover is still assigned to "A".
You get to keep the weapons that you pick up, like ME2.
You will be able to pilot the piloted mech, Atlus as long as you kill the pilot first.
ME3 will use thermal clips, not ME1-style regeneratable ammo.
ME3 will include heavy weapons.
Just like ME2, squadmates will be using only 2 weapons.
The powers of squadmates evolve as well.
Interrupts are back, but with new "tech and methods".
Squad weapons can be selected and customized.
Ammo is fully replenished after every mission.
You will have one heavy weapon, like in ME2, but there'll be more variety.
Most pistols reload quickly, hit harder, but have less ammo.
You can reload while aiming out of cover.
A tech-blade is the unique killing blow for Soldiers.
"Blades of psionic energy" are the unique killing blow for Adepts.
Grenades are making a return.
Shepard will have access to all of his personal effects from ME2, the questions is, wher are they?
ME3 will support Kinect, but it is not required.
Guardians are holding shields, which affect the enemy's gameplay tactics.
Graphical display of bars and values to the different attributes of weapons and abilities.
Ammo powers will stay as 'powers' a la ME2.
New ability shown in Garrus' talents tree called Proximity Mine.
The Soldier class has a grenade power.
You will be able to change the colour and camo of your weapons.
We are only temporary custodians of the particles which made us - Stephen Hawking
1.0

Posts: 1789
Location: UK
Uploads: 23
Kudos: 50
CPU: AMD 4000
GPU: Nvidia 6800
RAM: 2560 MB
Storage Space: 580 GB
Sound Card: On board
---
Re: Mass Effect 3 Origin edition details
by Rebel O Conner » July 15th, 2011, 7:45 am
but the more important answer is not here: What Tali look like without her helmet?
A common disease is the verbal diarrhea and the intellectual constipation.
1.0

Posts: 411
Location: Moon, second floor.
Uploads: 71
Kudos: 19
Sound Card: on board
---
Re: Mass Effect 3 Origin edition details
by Darwin Machiavelli » July 16th, 2011, 10:03 pm
Is this version of Mass Effect 3 called "Origin," or is Origin the name of the distribution service? The post kinda confused me
1.0

Posts: 654
Uploads: 5
Kudos: 4
Motherboard: No idea
CPU: Intel Quad Core 3.4ghz
GPU: ATI HD 7850
RAM: 8 gb.
Storage Space: 2 TB
Sound Card: onboard
---
Re: Mass Effect 3 Origin edition details
by Keylek » July 18th, 2011, 10:21 pm
origin is the EA version of steam, yet steam is alot better due to EA likes to rip of gamers by doing things like removing games of your list after a year if you have not played it for a year in which then you will have to rebuy the game, also they do a limited ammount of downloads for the game you bought (basiclly a download version of securom) in which you will have to re-buy the game again after the re-downloads and so on, like i dont like steam, but yet at least it is run by a gaming company (valve) unlike EA which is doing it for the money and care nothing about the community, like yes their are alot of annoying things with steam, but yet i still say its the best out there, expecally compared to origin, anyways, you can download the games as many times as you want on steam (unless they have securom, yet alot of EA games on steam do not have securom, which is good) and their are normally offers on games quite offten anyways. anyways, i really dont think you want only EA games, i am sure you would also like none EA games as well. anyways, F**k origin, steam is still the most popular and new features are being added to it all the time like now you can take screenshots in games and even upload them to steam so their is no need for a screenshot program like fraps and no need to make any accounts to image uploading websites (so long as its about games and not anything else) like steam annoys me that how it is soo keen with macs, but so long as they keep on doing games for windows, i dont care. anyways, i will stop ranting on now... XD
http://i713.photobucket.com/albums/ww13 ... 000231.jpg
1.0

Posts: 726
Location: behind you mortal looking at you tasty neck. [Alienslof]
Uploads: 3
Kudos: 10
Motherboard: I5 Compatable one
CPU: Intel I5 3.2GHz
GPU: ATI Radeon Hd 6950
RAM: 6GB
Storage Space: 2TB
Sound Card: Built In
---
---
Related topics

Replies
Views

Last post
Mass effect 3 trailer
1

,

2by Rebel O Conner » December 17th, 2010, 11:55 am

6 Replies
523 Views
Last post by Darwin Machiavelli
March 25th, 2012, 5:43 pm

Mass Effect 3 delayed
by Rebel O Conner » May 8th, 2011, 6:34 am

4 Replies
220 Views
Last post by Keylek
May 10th, 2011, 9:42 pm

Mass Effect 3 Earth DLC Content Leaked
by loder » June 15th, 2012, 5:58 pm

0 Replies
536 Views
Last post by loder
June 15th, 2012, 5:58 pm