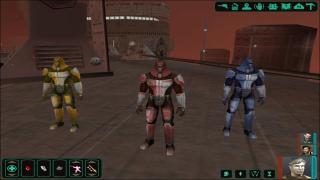 Views: 2,903
1.0
A Hallucination
======================================================
A KNIGHTS OF THE OLD REPUBLIC II: THE SITH LORDS MODIFICATION
======================================================

Author: A_Hallucination
Email: Sefton3456@hotmail.com
Name: Real Mandalorian Armor
Credits: Me

Filename: NewArmor.zip
FileSize: 235kb
Date Released: 9th July 2006

Description: This mod makes the mandalorian armors you find like the ones the mandalorians actually wear. Mandalorian battle armor is the blue one, Mandalorian assault armor is the red one and mandalorian heavy armor is the yellow one.

Installation Instructions: Extract from the zip and place the files in the ForOverride folder in the override folder in your swkotor2 directory. if you do not have one you wil need to make one.

Comments: This is my second in-game mod. I thought it would be good if the equipable mandalorian armors wer replaced by the ones they actually wear.

Bugs: None known. If you find any bugs then email me.

Permissions: Edit all you want just give me credit. You can put this on your site just give me credit and send me an email telling me it's there so i can contact you about updates. I don't need to reply to the email though.

THIS MODIFICATION IS PROVIDED AS-IS AND IS NOT SUPPORTED BY BIOWARE/OBSIDIAN ENTERTAINMENT OR LUCASARTS OR ANY LICENSERS/SPONSORS OF THE MENTIONED COMPANIES. USE OF THIS FILE IS AT YOUR OWN RISK AND THE ABOVE MENTIONED COMPANIES OR THE AUTHOR IS NOT RESPONSIBLE FOR ANY DAMAGE CAUSED TO YOUR COMPUTER FOR THE USAGE OF THIS FILE.