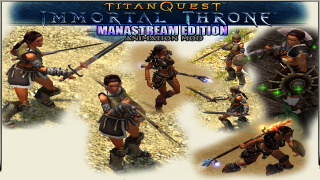 Views: 5,866
1.0
codemajor
This Mod changes the "normal" character animations and sounds.

Important :
Currently ONLY for female characters.

After some tests and new features here is the standalone version. Seperated from the orginal Manastream Mod.

Every weapon has its own run & idle animations.
Bow & Sword (DW&Blunt, too) User has new character sounds.
Bow & Sword attacks and projectiles have changed sounds.

Enjoy

HowTo:
1. extract the manastream_anim folder to :
X:......DocumentsMy GamesTitan Quest - Immortal Thronecustommaps
2. start the game and choose custom game. select this mod(manastream_anima ~start.map) from the list
3. the menu will switch to the main campagne and you can choose your character now.