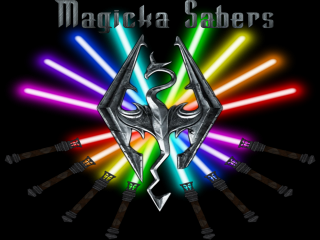 Views: 9,527
0.3
Lord Haun
Magicka Sabers
0.3



Added blade draw/sheath effects.

Added two hand versions.

Added loop sound

Changed impact set to shock impact effects temproarily.

Changed to new blade models that use vertex colors.

Changed soulgem crafting/tempering requirement.



0.2




Added craftability.

Added temperability.

Added swing, draw, and sheath sounds.

Increased base damage from 14 to 17.

Increased value from 1250 to 2000 Gold.

Reduced weight from 16 to 4.

Changed color saturation.

Changed color names from teal to cyan and purple to violet.

Changed inner blade texture.

Changed archive to 7Z for better compression.



0.1


Star Wars Hilts Replacer
0.3




Initial Release for Magicka Sabers version 0.3.

Includes Anakin Ep2, Anakin Ep3, Common Jedi, Count Dooku, Darth Maul, Darth Revan, Darth Sidious, Darth Vader, LS106, Luke Ep6, Mace Windu, Obi Wan Ep1, Obi Wan Ep3, Quigon Jin, and Yoda hilts.

Big thanks to Dark Revan for conversion use of her Jedi Academy Hilt Pack mod.

Future Ideas
img border="0" src="http://i.imgur.com/I7mDW.png" alt="Image" />




Quest line.

New crafting items.

Dagger version.

Hilt variations.

Blade trail effect.

New impacts effect.

Magicka reduction system.

Enchantment enhancements corresponding to aquired spells/perks.

New blade effect as replacer.



More ideas to come.

Description
img border="0" src="http://i.imgur.com/dd3kj.png" alt="Image" />

This modification is a lightsaber style weapons mod for Skyrim. Eventually it will be focused

around using magicka to wield them and a quest line to construct them.

Usage
img border="0" src="http://i.imgur.com/GqwuT.png" alt="Image" />


All weapons can be crafted at a blacksmith forge and tempered at grindstone. Deadric smithing perk is required to craft them. They are located under the Daedric section for now, otherwise they wouldn't be able to be tempered past flawless. Here are the recipies until I can get new craft items quested. In order to craft/temper the soulgem has to originally be empty. You can use and empty one that has been filled using soul trap, but cannot use one that is sold or looted filled.




One Hand Craft: Ebony Ingot x1 - Leather Strips x1 - Firewood x1 - Greater Soulgem (Empty) x1

One Hand Temper: Ebony Ingot x1 - Grand SoulGem (Empty) x1

Two Hand Craft: Ebony Ingot x2 - Leather Strips x2 - Firewood x2 - Greater Soulgem (Empty) x1

Two Hand Temper: Ebony Ingot x1 - Grand SoulGem (Empty) x1

Installation
Extract the contents to your Skyrim/Data directory or use Nexus Mod Manager. If you are upgrading then please uninstall the previous version first.Star Wars Hilts ReplacerThis will require a manual installation. Please look though the folders and decide which you want to replace for it's color type. If you decide to replace any of the two handed hilts, you must make sure to also replace the corresponding blade color mesh from the "Blade 2H" folder.UninstallationDelete all files from the Data folder that you extracted or use Nexus Mod Manager.ConflictsNone that I can tell.
Credits
img border="0" src="http://i.imgur.com/2CytM.png" alt="Image" />

Adobe
AutoDesk
Bethesda
Dark Revan
Figment
Niftools Team