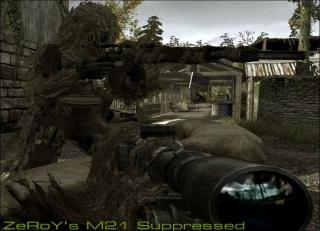 Views: 2,248
1.0
ZeRoY
M21 Rifle modification for Modders or Mappers
---------------------------------------------
Name : ZeRoY's M21 Ghili Suppressed Sniper Rifle
Version: 1.0
Author : ZeRoY
Email : zeroy99@gmail.com
Sites : http://www.zeroy.com
Forum : http://www.zeroy.com/tacticalnight/index.php
Compatibility
-------------

Call of Duty 4 - Modern Warfare stock & customs maps/gametypes

Tested on version 1.5 only

Tested with:

- ModWarfare (modded version supplied)
- AWE4 1.2 (added models to a custom map)
- Tactical Night Mod 1.4 (re-compile with models)
Features
--------

- Replace the Stock M21 Sniper rifle by the M21 Scoped and Suppressed used in the Single Player Mission "Scout Sniper"

- Rifle has silenced sound and act like a bolt action rifle so that you cannot fire 2 consecutive shots too fast (to compensate for the silencer)

- Ghili & Woodland Camo on rifle
Usage for Server Admins
------------------------

In the archive you will find a modded version of IW ModWarfare with the Rifle mod included.

Just place the content of the folder "for_server_admins" in your server cod4_root and use ModWarfare as usual.

To remove the M21 Suppressed, simply remove the weapons folder from
z_modwarfare.iwd (open with winrar)
Usage for Modders/Mappers
-------------------------

Check out the folder "for_modders_and_mappers"

- in your Zone File (mp_yourmap.csv or mod.csv) add the lines:

xmodel,weapon_m21SD_woodland
xmodel,viewmodel_m21sd
xmodel,weapon_m14sd_scout
xmodel,weapon_m14sd_scout_brock
xmodel,weapon_m14sd_scout_bshdwl
xmodel,weapon_m14sd_scout_bwmrpt
xmodel,weapon_m14sd_scout_cmdtgr
xmodel,weapon_m14sd_scout_stagger

- Backup the file /raw/weapon/mp/m21_mp somewhere

- Copy the file m21_mp provided and place in your map or mod IWD file under
/weapons/mp/ (create folders if not already there)

- Compile your map/mod as normal

- In game, if you select the M21 in the Sniper class you will have the new rifle.
Known issues:
-------------

- Removes the M21 Stock :) -- Also if you select "Acog" as attachment for the M21 you wont get this rifle.
Credits
-------

ZeRoY

Maffski for testing :)

Thanks to Infinity Ward o provide the tools/assets to create this modification!