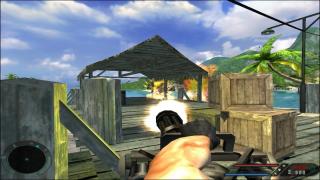 Views: 2,359
1.4
Takaro
Have you ever blasted a crap load of baddies with the mounted mini gun...and when it was over, wished you could unhook it and take it with you? Well...guess what? With this mod, you can be a mini-gun-totin-maniac!

See the readme for more details. Enjoy.


Note:
A big thanks goes out to Dark_Gulouse for giving us a heads up on this mod!

This mod enables the player to pick up mounted miniguns and carry them as regular weapons.
Ammo can only be obtained from other mounted miniguns, so the gameplay balance is not affected too greatly.



Requirements:
This mod requires the DCL dynamic class loader mod to work correctly. You can get this mod from http://web.telia.com/~u31225218/fc/dcl/

Caution: This mod is compatible with DCL, but because it modifies several weapon scripts, there is no guarantee that other weapon mods will work correctly with it. In fact, I'm pretty sure they won't.



Install
Unzip into the root Far Cry directory, not the Mods directory

Run Far Cry, go into Mods menu and select Minigun mod. Far Cry will have to restart to enable the mod.

Alternatively, create a shortcut to the Far Cry executable, adding the parameter "-MOD:Minigun"

Play any map and get yourself to a minigun.
Cool features to look out for:
Dry fire barrel rotation when out of ammo

Minigun picked up whenever you use a mounted minigun, and then stop using it.

Every time you use a mounted minigun, youll take it if you dont have one already and theres room in your inventory.

If you already have a minigun, using a mounted minigun replenishes your carried minigun ammo to 900 (you can do this indefinitely), but leaves the gun mounted.

Fires very fast, but also with large dispersion, just like a handheld minigun would behave in real life (dont bother sniping with this sucka!)

Changes to version 1.1:
Added support for DCL

Slowed down player movement when carrying minigun

Added trail-off sounds to minigun and mounted minigun

Fixed up fire and swim animations a little bit


-----------------
This mod is free for non-commercial use. Please send all queries and comments to adam [at] takaro [dot] net

http://www.takaro.net