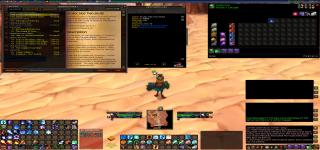 Views: 278
3.0
Luberous
Compatible with WotLK

I am not the author of any mods in this pack, this is just a mod pack I use, all credit goes to the orginal authors.

If you are a current or first time user of this mod pack, please delete your interface and WTF folders.

Please comment on my mod pack if you like it, thanks alot.

ImprovedErrorFrame
AdvancedTradeSkillWindow
ag_UnitFrames
ArenaCalculator
ArkInventory
Atlas
AtlasLoot Enhanced
Auctioneer
AutoProfit
Bartender3
BGAlerts
BGSoundAlerts
BGTextAlerts
Cartographer
ClearFont2
CT_Core
CT_MailMod
cyCircled
DamageMeter
DeadlyBossMods
Deformat
Divisor
Earth
EarthFeatureFrame
ElkBuffBars
EquipCompare
ErrorMonster
Examiner
FuBar(Ammo, Bag, Clock, Durability, Guild, Honor, Location, Money, Performance, TopScore)
GemHelper
GFW_AdSpace
GFW_DisenchantPredictor
GFW_Gemologist
GFW_HuntersHelper
GFW_ReagentCost
GroupCalendar
HK_QuestInitiators
ItemLinkRecolor
ItemPriceToolTip
LightHeaded
MiniMapButtonBag
MirageUI_XPBar
MobInfo2(plus MobHealth)
Omen
OmniCC
OutFitter
PreformAVEnabler
ProfessionsBook
QuestGuru
QuestHelper
QuickLoot
ScrollingCombatText
Sea
SimpleMiniMap
TipBuddy
TotemBox

Installing
*Unzip into worldofwarcraft/interface/addon folder

Set-up
*When setting up the mods for multiple characters, you need to set different profiles for each character or each character will share the same set-up(if you change something on one character it will change on the other character, so set different profiles for each character to pervent this).