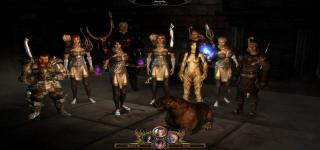 Views: 10,067
0.5
OrderlyRandomDragon
YOU'RE ARE MY BETA TESTERS.

This is a very rough draft of playing Lady of the Forest as a companion. The idea came up to me yesterday, implemented last night, almost no test. Repeat, you're beta-testing. Please don't expect anything near perfection.

I'm no game developer. I'm not even a mod developer. I'm here to try & educate myself about game as a medium.

Her name is Serenity. SerenityStore? Yeah. All of those merchant function and cheats are still in there.

To play her, you need to hire her at camp. Initiate a conversation, click Hire Serenity. She will then follow you around. She will also be in your party selection list. To stop her from following you, talk to her again, select Stop Serenity, or just select her off your party selection screen.

Serenity looks like Lady of the Forest. She may be Lady of the Forest. I'm building her story and character, which are my focus. This mod is the project's predecessor. My timeframe: 1-2 weeks.

** GOT IT! Her stat WAS a basic mage. Now it just depends on what you folks want. I could simply jam a ton of free points there for you folks to spend. Let me know.

*******************************************************
*** Spec that can make her a perfect mage w/o cheat ***
*******************************************************
************************************************
*** What would you like her to take part in. ***
************************************************

...yeah, yeah, I know, romance her, preferable with some "graphical" details, eh? That's always popular. Noted. No promise. Anything else?

Again, I am looking for feedback. I don't care about kudos, endorsements, that sort of things. Weird behaviors and glitches will be resolved when official Serenity project is done. Let me know what they are. Thanks.

The mod is very bare. You can uninstall it thru any mod management or just go into your , trash a folder named . Your DLC menu sometimes may still show the mod hanging around. That's just a bookkeeping entry. Don't worry about it. It's like someone forget to scratch out log on a package that already left the warehouse.

Thanks for your interest. Again, keep the feedback coming. Be civil and constructive. You have my gratitude in advance.

---------------------

Some troubleshoots,

If you installed SerenityStore before, you need to uninstall, then reinstall. Find an earlier save. Bioware jammed a ton of data into your save file. You need to find a clean save without her existence whatsoever. Otherwise, she will be stuck as a low level warrior with no skills.

When you level her up, unequipped her accessory first. Her default equipment maxed everything out at 1000, 9,999 Mana, 5,000+ heath or something. Her magic isn't zero, it's 1000. The engine for some reason show most numbers over max, zero or negative.