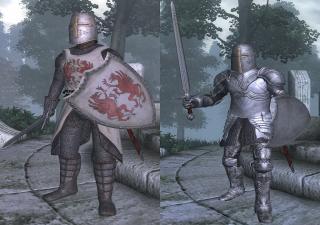 Views: 3,262
1.0
Phitt and Ghogiel
== Knightly Armory ==


This mod adds lots of nice goodies for knights to the game. Armors, helmets, shields, even a few weapons. Just look at the screenshots. The armors are mid-level regarding stats (a bit less AR than orcish for heavy armor, but higher durability and price). You can buy the new equipment (as well as some standard equipment like chainmail and steel) at 'Knight's Desire', a new shop in Chorrol. It's located directly to the left of the south gate, you can't miss it.


= Installation =

Extract the archive to your Oblivion\Data folder and check the 'KnightlyArmory.esp' in the data files section of the Oblivion launcher.


= Credits =

Ghogiel for the Sallet and Armet meshes and textures

Bethesda for the original meshes the plate armor and Gryphon/Dragon curiasses are based on


= Known Bugs & Incompatibilities =

The plate cuirass with the 'skirt' has some clipping issues. I might fix that later.

The 'Horned Helmet' has a crappy texture. I might fix that later as well.


Only mods that add something to exactly the same place where the 'Knight's Desire' shop is located might conflict (1 cell in Chorrol worldspace altered).


= Permission =

If you want to use any part of this mod in your own you need to ask for permission. The reason is that not all the meshes were done by me and I want to avoid problems when someone credits me for meshes/textures done by Ghogiel.


= PFAQ (Possibly frequently asked questions) =

Q: You have used the KotN cuirass! You mustn't do that! I will tell Bethesda and you'll go to jail! Ha!

A: I asked Gstaff wether it's okay to do so and he said as long as I give proper credits it should be ok. If Bethesda ever complains about it anyway I will remove the two cuirasses immediately of course.

Q: But...but...it's not shiny!

A: I decided not to use the shiny effect. While it looks nice under certain conditions it looks like crap on other occassions (especially in interiors). I like the non-polished look as well and it looks good all the time. Don't ask me to change that for you as I won't. It's a few clicks in Nifskope only, so you can do it yourself.