Just Cause 2 multiplayer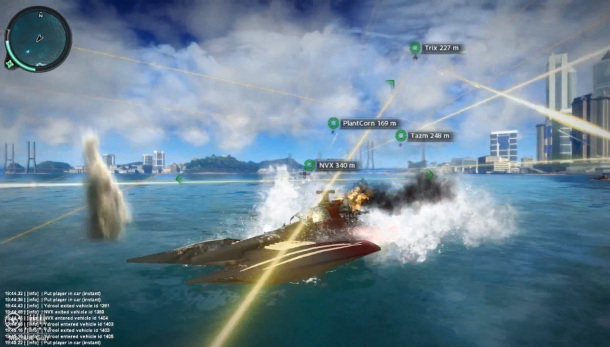 Given the level of unchecked infrastructural carnage caused by a single Rico in Just Cause 2, packing over a thousand of him into a single instance of Panau sounds like a really bad idea. Or a really good one. It depends on your fondness for explosions, crashes and parachutes. Either way, it's an experience, and one you can participate in the Just Cause 2 Multiplayer mod.

One day, the team plan to release the mod and let player's set up their own servers, which will no doubt tone down the madness. While there's still no news on when the release is planned, the mod's makers have assured that the speculation around a possible Just Cause 3 won't affect development. "The ASSUMED presence of JC3 does not affect the status of the mod whatsoever.

There are quite a few mods available for the Just Cause 2 game already. Feel free to download them.
We are only temporary custodians of the particles which made us - Stephen Hawking
Site Admin

Posts: 2148
Location: UK
Uploads: 22
Kudos: 60
CPU: AMD FX6300 - 3.5 Ghz
GPU: Nvidia GTX 660
RAM: 8GB
Storage Space: 750GB
Sound Card: On board
Case: Corsair Obsidian 550D
---
Re: Just Cause 2 multiplayer
i loved that game... multiplayer would be AWESOME! XD
would never stop playing that then i think lol
0.6

Posts: 62
Location: At Home~
Kudos: 8
Motherboard: Mommy's-Board o.O?
CPU: dont know what that is~
GPU: whats that ?
RAM: 8 GB
Storage Space: 3 TB <3
Sound Card: Card with sound ? xD
---