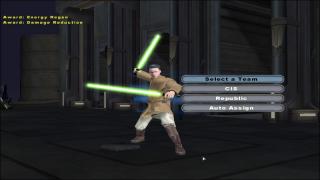 Views: 1,834
1.0
Delta 57 Dash
This mod changes the Coruscant Capture the flag from CIS vs. Clones to Jedi Vs. Clones.

So basically, extract the zip to your lucasarts folder, run Jedi vs. Clones.exe, then start up SWBF 2, go to instant action, and choose Coruscant CTF clone wars, and PRESTO! you are playing clones vs. jedi!

In addition, this also changes the clone's hero from mace windu to anakin on Coruscant CTF. HAVE FUN!