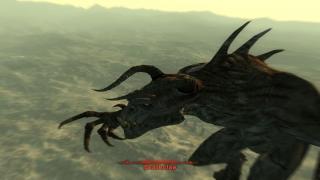 Views: 4,908
1.5
Russell Castle Meakim Jr
IWS: Increased Wasteland Spawns
Russell "Castle" Meakim Jr
=============================
Greatly increased the number of spawn points and dynamic events in the wasteland. Prepare to see a much more active experience with more populated towns, cities and creature infested wastes. Experience much more extreme large scale combat than ever possible in the vanilla game. The latest version of this mod is a huge update where I hand touched a considerable number of above ground locations in the game world to further enhance the spawning and faction patrols. Prepare yourselves to see not only a more active wasteland but a far more brutal one as well.

==Instructions==
1. IWS-Core.esm
Increases spawns considerably. ( Does not need NVSE )

2. IWS-MoreSpawns.esp
Combine this with IWS-Core to further increase spawns. ( Right now this increases ghoul spawns only ) ( Needs NVSE )
This also increases spawns on interiors so watch out.

3. IWS-UltraSPawns.esp
Use all 3 modules together for max carnage! ( Right now this increases ghoul spawns only ) ( Needs NVSE )
This also increases spawns on interiors so watch out.

==Version 1.5 change list==
*Greatly enhanced the spawn system for creatures for better balance and an overall better experience in game. Crazed Robobrains and protections are back!
*NCR, Great Khans, Fiends, Legion, Vipers, Jackels all stake a claim on their territories with an iron fist.
*All Factions now guard roads and caravans while waging battles on anyone who gets in their way.
*All major cities and popular locations in the wastes have armed guards for protection against the larger number of creatures and enemy factions that threaten them.
*In addition to more armed guards you will also see more Wasteland travelers and civilians.
*Now you also have the ability to further enhance the spawns with a configurable script. Currently only works for feral ghouls for now but will be further updated to support many more creature and NPCs.
Super Mutants are still active in the wastes but are far more rare than before. Below is the small list of the new locations where they can be found.

-Brooks Tumbleweed Ranch
To the northwest of this location is a highway blockade with water that is now guarded by super mutants.

-Boulder Beach Campground
Small group of super mutant scouts here.

-Mountain Shadows Campground
Small group of scouts here.