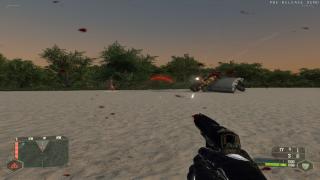 Views: 544
1.0
Unknown
Features:


A new night mission for Crysis with a lot of additional stuff.

Patrolling Helicopter, Boat and APCs

Patrolling 25 man group

Plenty to kill, a real challenge

Turbo

Is a night version, also the vehicle and large gang patrols will now
trigger as soon as you approach the island.

Installation guide:

1: Go to your Crysis game folder and open Crysis Demo -> Electronic Arts ->
Crytek -> Crysis SP -> Demo -> Game -> Level.
2: There is folder called island, rename it to island1 or what ever you want.
(Do it only if necessary)
3: Copy the level folder from the downloaded file into the current game folder
(Game/Levels).

- If you want to play the normal Crysis Campaign again just rename the original
island folder to island (Only after you have renamed it before).