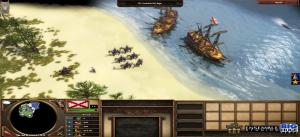 Views: 3,020
1.2
mandosrex
This mod started out as a 'Buildings Mod', with the objective to add more nice and useful buildings to the game, but many more improvements where needed and many ideas where coming so the 'Improvement Mod' was born.

For now, this mod tries to upgrade the game with small, big and necessary tweaks, changes and adds to make the gameplay more interesting, fun and challenging. All known bugs from the original game have been fixed.
More great things to come!

Special thanks to aLEN, GhosttSkiiehh, Sanpedrocactus, Arkantoz, WotTA and everyone else!

Notice that some units or buildings present in this mod are taken from the Napoleonic Era or War of the Triple Alliance mods.

Every version of this mod should be installed on a fresh, unmodified version of 'Age of Empires 3 The Asian Dynasties' (must also include 'The War Chiefs' and all games must be updated to the latest versions, v1.03 for TAD)! Mostly recommended only if you have any kind of errors or other problems.


Troubleshooting
If you have problems with missing models, sounds or buildings icons then try to re-install 'The War Chiefs'. It has some installation glitches.
And if that doesn't work then find out how to fix it at the end of this description.

High video settings are recommended for all visual changes to work properly.

Please do not update the mod with any rip-offs or other modifications from mods designed to work with this one.

The mod is only available in English and French (fan made).


Requirements
This mod is only for TAD but requires AOE3+TWC+TAD 1.03


Manual Install
Copy everything from inside the 'improvement_mod' folder to your AoE3 directory, and everything from inside the 'usa_civ' folder to 'My Documents'


Un/Installation

- make sure you have the latest versions of all 3 games (v1.03 for TAD), get the latest patches from the game's official website or use the game's updaters
- run the installer, select your AoE3 directory and continue with the installation
- to completely remove the mod please re-install the game


Steam
If you plan on installing this mod over the Steam version, use this path for the installer:
/Steam/steamapps/common/Age of Empires 3/bin/


Noob Translation
1. Install Age of Empires 3 (do not install any cracks after you finish, you just need a serial)
2. Install The WarChiefs (watch out what pirated version of this one you install, some are broken)
3. Install The Asian Dynasties (try not to run any of them until you complete all steps)
4. Update Age of Empires 3 (latest version: 1.14)
5. Update The WarChiefs (latest version: 1.06)
6. Update The Asian Dynasties (latest version: 1.03)
7. Install mod and run the patcher to update (run as administrator)